[SIFL News] Round 22 – Games played on 08 Apr 2017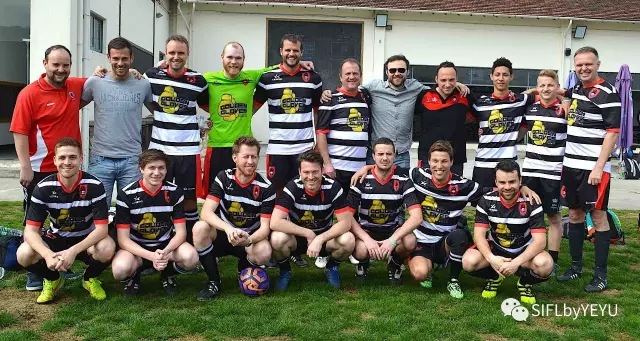 Premier League
Shanghai ReUnited 6-1 Shanghai Japan FC
Shanghai United 0-5 Azzurri FC
Shanghai Krauts FC 2-9 Shanghai 3United
First Division

Voodoo 7-0 HFC
Kangbei United FC 2-4 Voodoo Child (above)
Long Tang AFC 3-0 Shanghai Tianfu FC
Anzacs FC 0-7 Shanghai Cosmos
---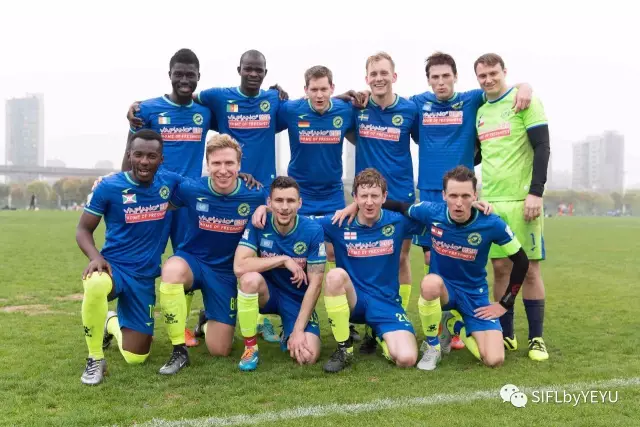 Premier League
Shanghai ReUnited battled it out with Shanghai Japan FC and continued their strong run of form with a comfortable victory over a team who proved a tough nut to crack in previous encounters.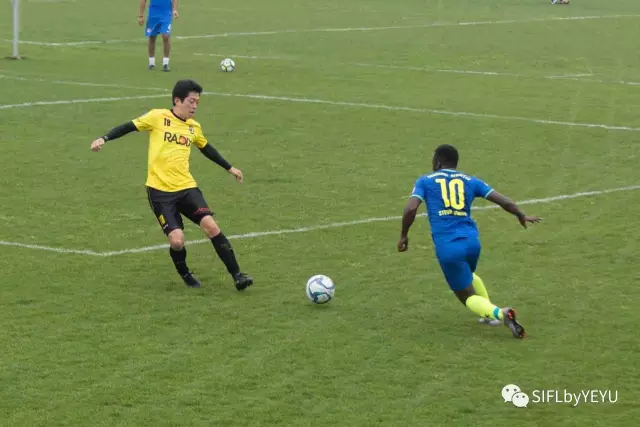 ReU went into the match knowing that only a win would do to keep their title dreams alive and the first quarter of the game proved testing.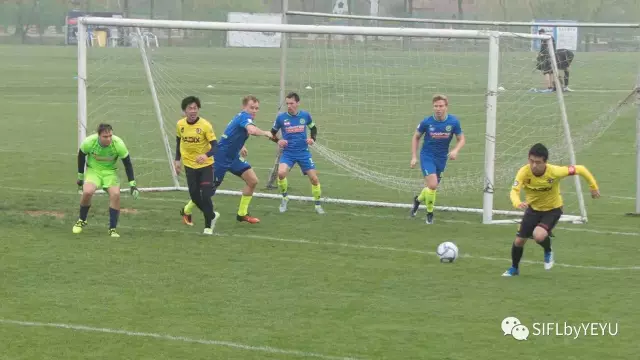 The Japanese started with great energy pushing ReUnited back with intricate play while ReU were struggling to get hold of the ball. Japan created several chances but without causing problems for the ReU defense.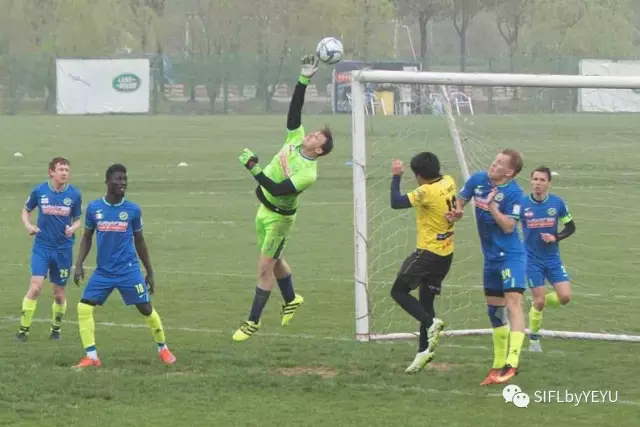 ReUnited gradually started to push Japan back and play took place on their half. They were rewarded by this territorial advantage when debutant Lucas Malina headed home powerfully from a Karsten Knerr corner taking a 1-0 ReU lead.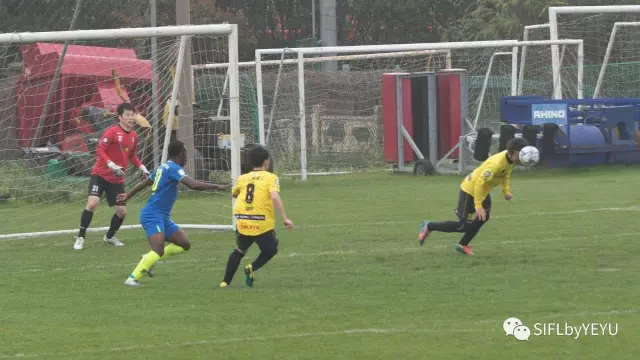 This goal proved wonders for ReUnited and it wasn't long before they doubled the scored. Lucas Da Silva added a second goal after being put through by Steve Ishemezwe sending ReU up 2-0 at halftime.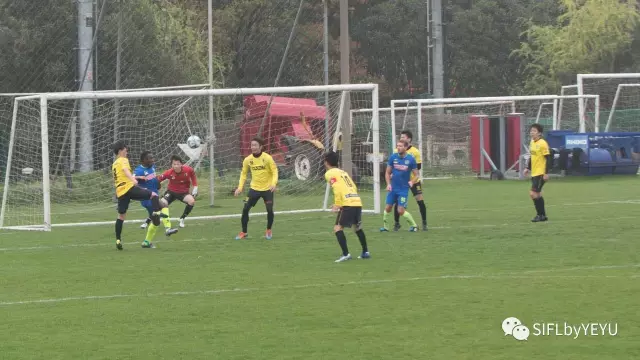 In the second half, Mandela arrived and ReU had even more firepower. It wasn't long before their attack yielded again adding to the score-line.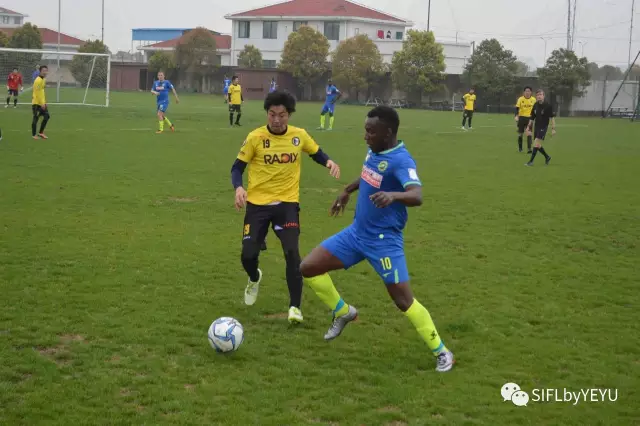 Ishemezwe, Adam Kling and Mandela (2) completed the scoring with Japan grabbing a consolation goal by Tomoyuki Hirai somewhere in the mix for a final 6-1 ReUnited victory.
With this win ReUnited are now just one point behind the Shooters and can move to first spot when they meet them in their next encounter.
Oleksandr Pozhar picked up man of the match honors. (above with all scorers)
---
FC Oranje did battle with Shanghai Lions FC. With several key Lions players at the Bangkok 7s, the Dutch were dreaming of a result with some new players. At kick off time they still faced a strong Lions squad with fresh recruits as well from the School of Freek Thought. (SFT)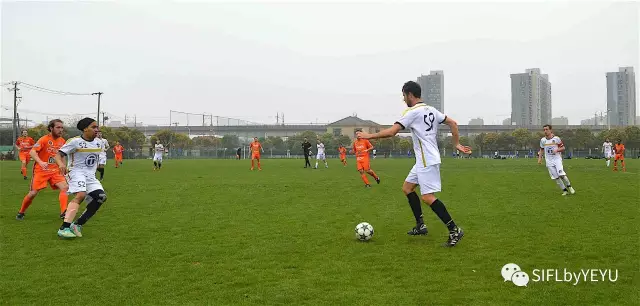 The Lions meant business and quickly ended all dreaming as they pinned Oranje back deep onto their half. The pressure yielded when the Lions scored from just outside the box with a shot that sailed in at the near post for a 0-1 lead after just 5mins.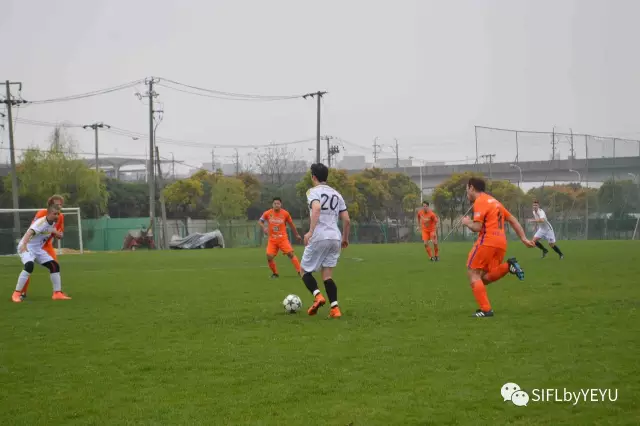 The men in orange then strung together a few moments that got them near the tight French box but the end pass was lacking. Just before halftime the Lions doubled the score and the first 45mins football ended with the Lions up 0-2.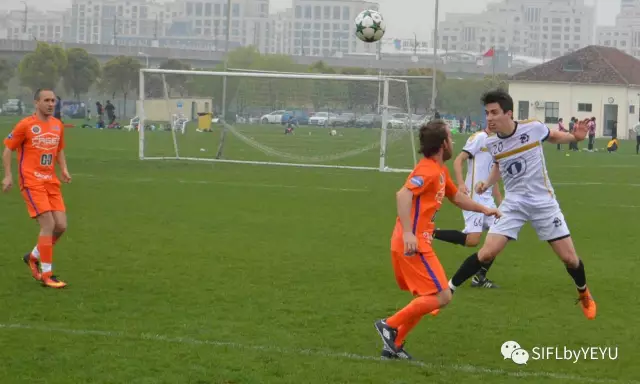 More of the same in the second half with the Lions pressing the Dutch back four and Oranje trying to combine through the middle. At the 75th minute the French scored again for 0-3.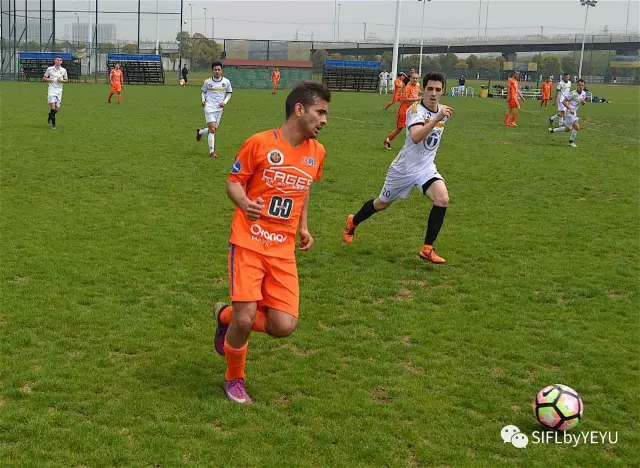 With 10mins on the clock it was time for the Dutch master to make an appearance and raise the bar in eager anticipation of the infamous third half at Cages.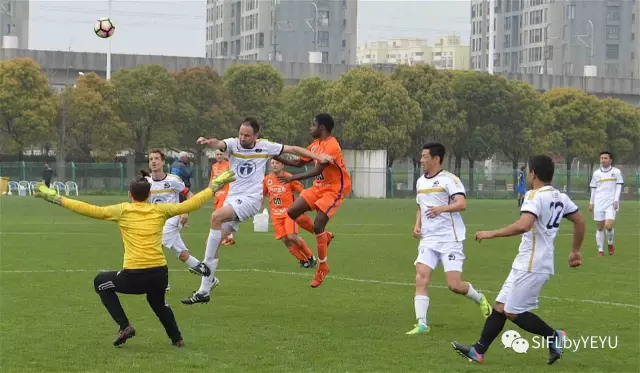 The Lions warmly welcomed the effort and raised the bar as well as they quickly scored two more goals for a final 0-5 score line. Gwendall Volant (2), Dave O'Reilly, Agajan Nyyazberdiyev and Jiang Yingchen scored the goals.
Volant (above) picked up man of the match honors. Tom Bus on match#585: "Orange Plastics & China Challenge said the right product development is key." Cages & Beyond Relocation could not agree more!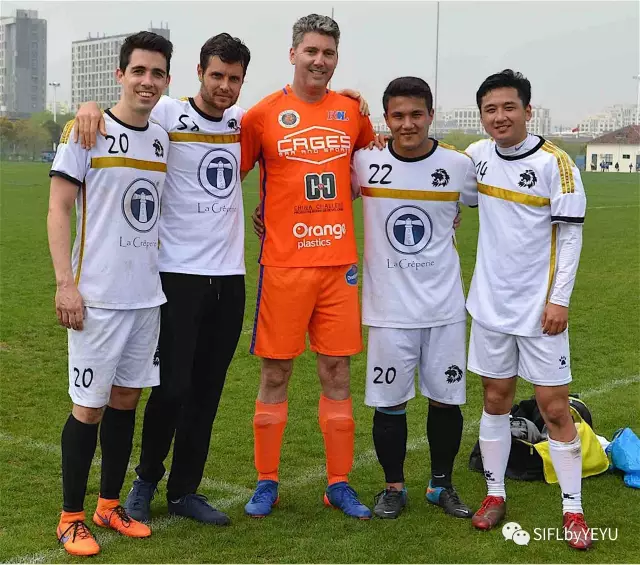 The men in orange went to their local where they out drank Azzurri and recorded another Third-Half@Cages victory. Oranjeboom was there and all was well!
---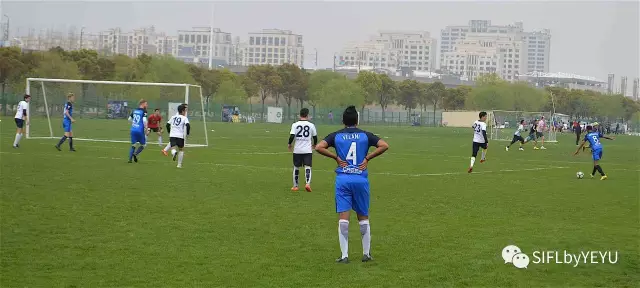 Shanghai United locked horns with Azzurri FC. United came with a starting eleven for this match. Azzurri had a full squad as well and the men in blue meant business from the get go.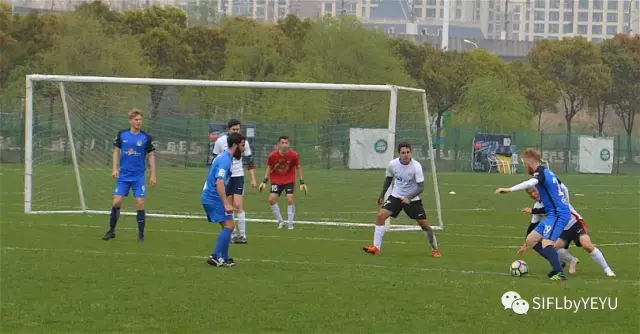 Adam Kluger, Kwame and Alex Brown made frequent excursions from their midfield deep into United territory and caused all sorts of danger all morning. Kluger: "My brother Fleddy taught me the ropes."
Anti Hintsanen was in fine form and at the right end of a fluent Azzurri attack beating the United keeper (above). Hintsanen scored two more in the match and completed a hattrick.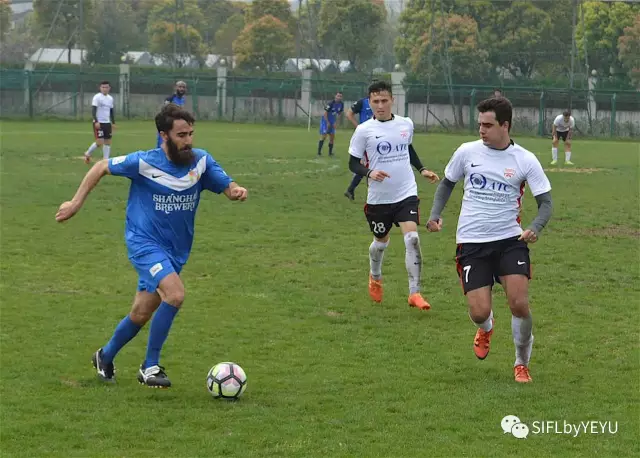 Azurri went to tea with a comfortable 0-2 lead and continued their scoring ways in the second half as they netted three more for an overall 0-5 victory.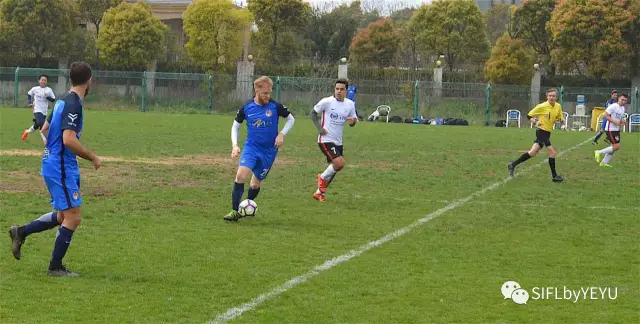 Imanol Des Valls and Patrick Ruiz Arbeloa scored the other Azzurri goals with Des Valls picking up man of the match honors. The men in blue went toCages to celebrate another fine Azzurri performance.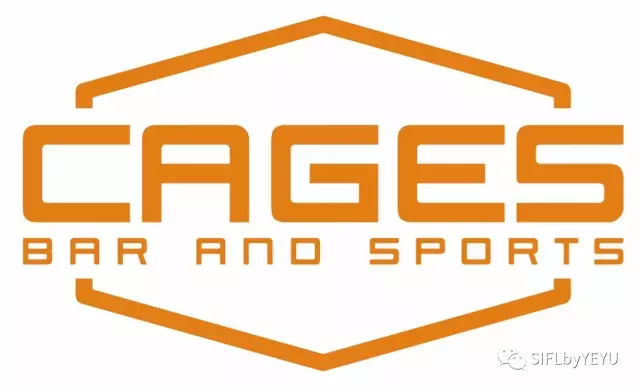 ---
Shanghai Krauts FC crossed swords with Shanghai 3United. For the first 15mins the Krauts were playing a man down and were defending gallantly. 3United had three or four chances to create something dangerous but the Krauts defense dealt with everything cleanly.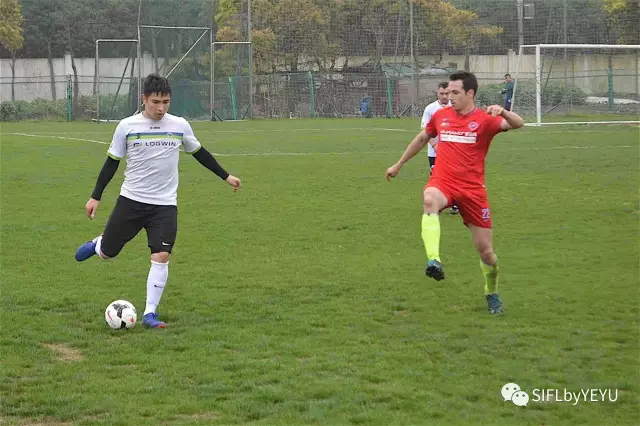 When the Krauts' 11th player finally filled their missing slot, the game was able to open up. Within the next 10mins, Armando Chiu found himself in front of goal and put away the first goal of the game giving 3United the 0-1 lead.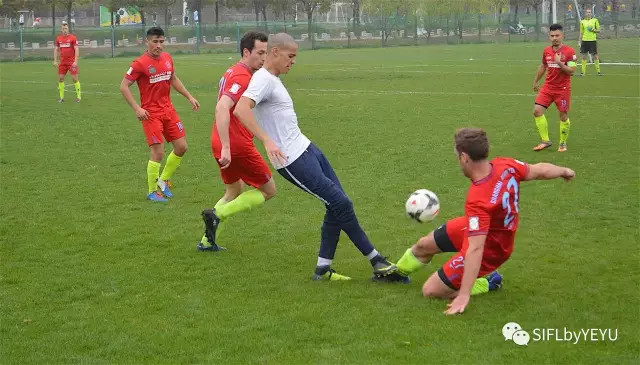 The Krauts answered soon afterwards with and striker Stanislav Korchazhinkii taking a quick turn around the defense and tying up the game with a well placed low shot for 1-1.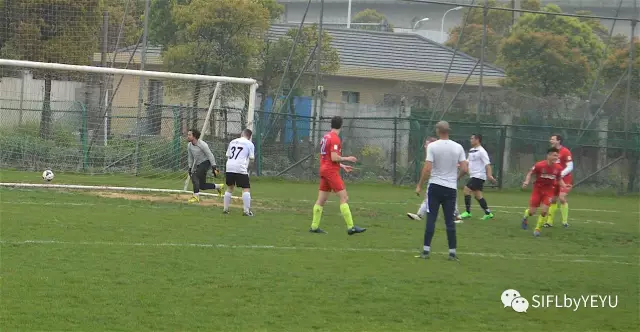 Within the time it takes to tie a pair of football boots, 3U had pushed straight back up into the Kraut box and Oraz Arslanow pushed through onto a free ball smacking in an answer to the Krauts' goal to retake the lead at 1-2.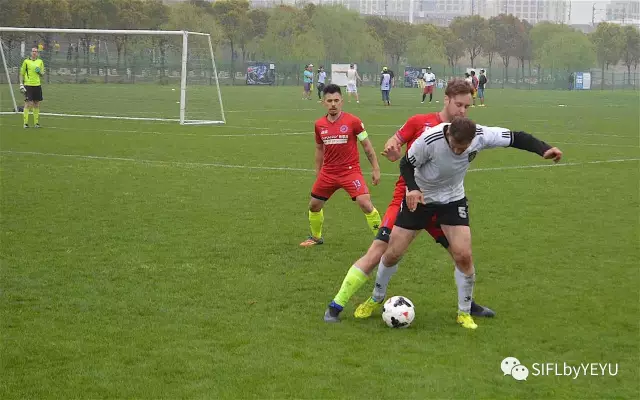 Two minutes later Joshua Chileshe received a ball just outside the box, one touched it past a defender then rocketed it in at the near post for 1-3. Soon after that Oraz Arslanow made it 1-4 with a smashing header from a perfect Joe Williams cross.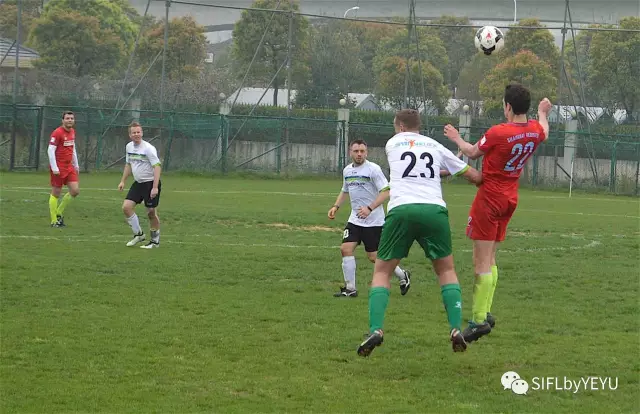 The Krauts did not give up and continued to fight for chances. They were rewarded when a ball bounced through the defensive line where Korchazhinkii ran onto it and two-touched it into the net getting a goal back and 2-4.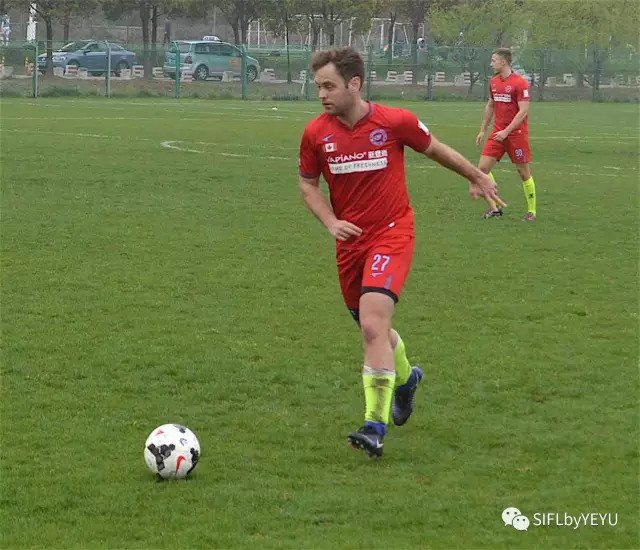 However, 3United hadn't finished yet and scored again. This time it was Joe Williams who put the ball in the net to end the half with a 2-5 score line.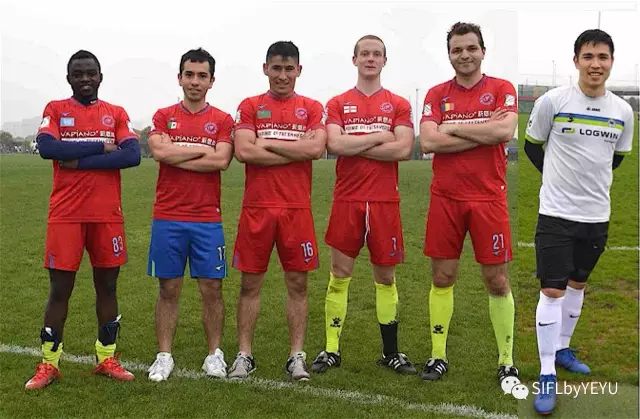 In the second half, Team 3U found their groove once more and hammered away at the Krauts' defense. Arslanow completed his hattrick, Radu Pughiuc netted two goals and Williams scored another one for a final 2-9 score line. With 4 assists and 2 goals Joe Williams picked up man of the match honors. (above with all goal scorers)
With this win 3U is 3 points above relegation and hot on the Krauts tail.
---
First Division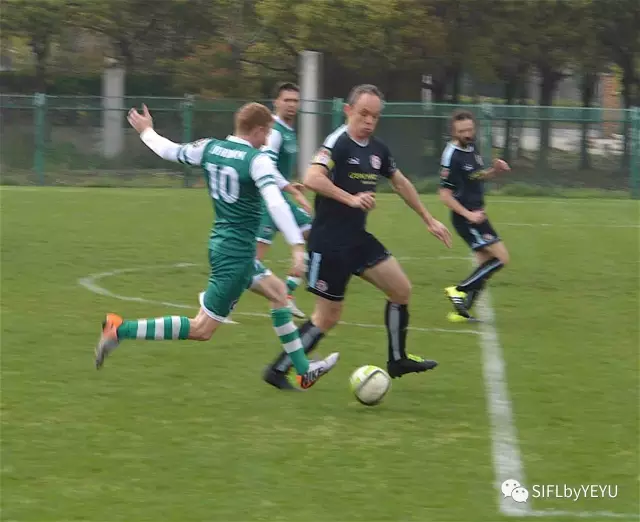 Anzacs FC negotiated the Shanghai Cosmos. Due to a couple of late dropouts and a serious health issue related to fake eggs, Cosmos came into the game with a lighter than average squad.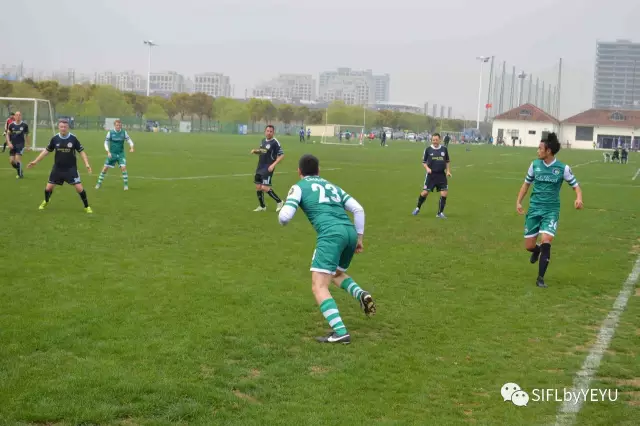 However, a mistake in the Anzac defence allowed Jordan Campbell to finish from the edge of the box for a 0-1 Cosmos. Three minutes later, a quality cross from Carl Ballantine, caused both striker Adam Stinger and the Anzacs centre back to lose control and the ball ended up in the back of the net for 0-2.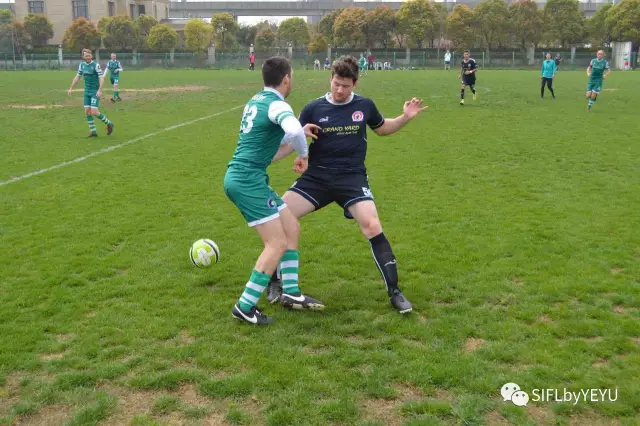 Cosmos relaxed and started playing some nice football. After 28mins, Conor Maye beat two men with a 'regulation' Cruijff turn playing in Stringer for a 0-3 halftime score. After 52mins, Maye's corner was dropped at the feet of Stringer for a tap in and 0-4.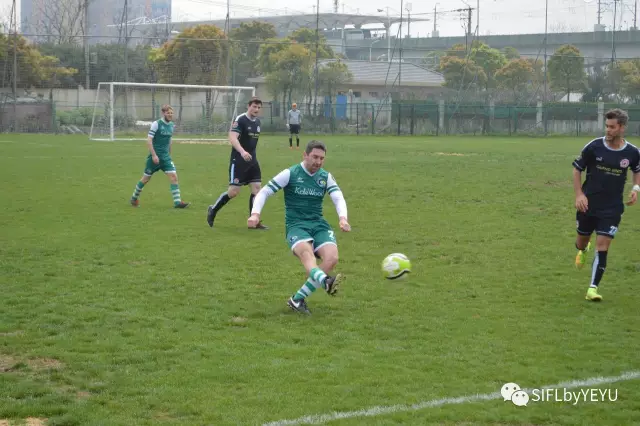 Cosmos were looking comfortable until keeper Criss Kang's 'air-kick' caused chaos in defence, but just like the Big Bang, chaos lead to creation and a long clearance allowed Jack Greenwell to play in One Direction's Harry Handley down to right. His cross found Campbell for 0-5.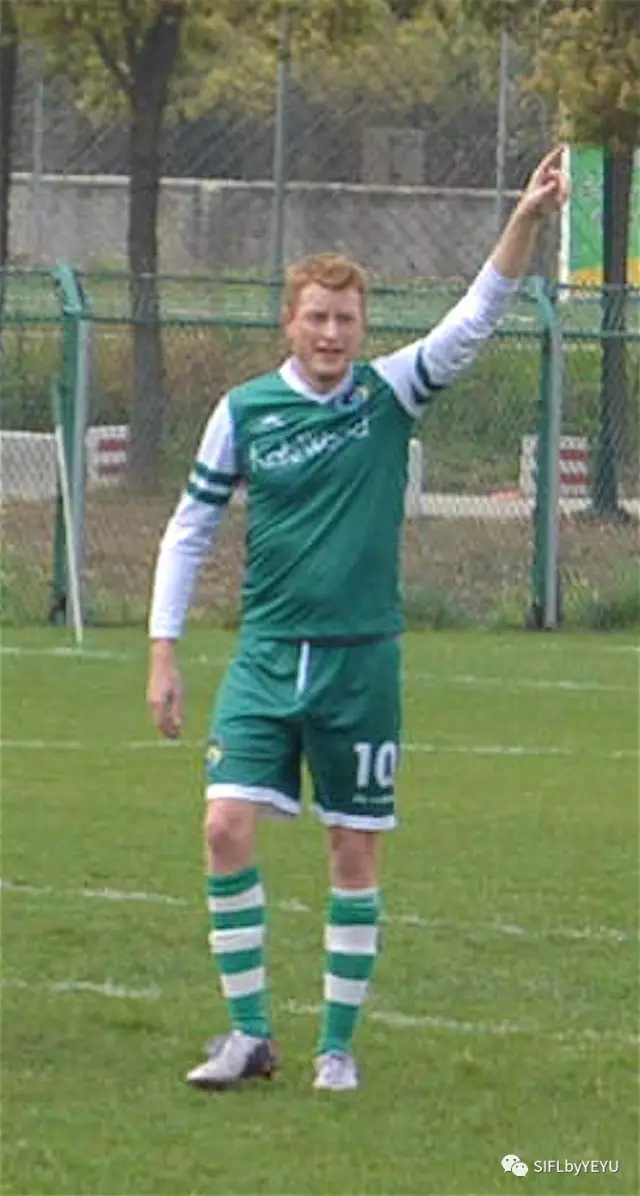 Then, another long clearance found Jonny Sellars who played in Stringer who completed his hattrick for 0-6 and the first Cosmos hattrick this season.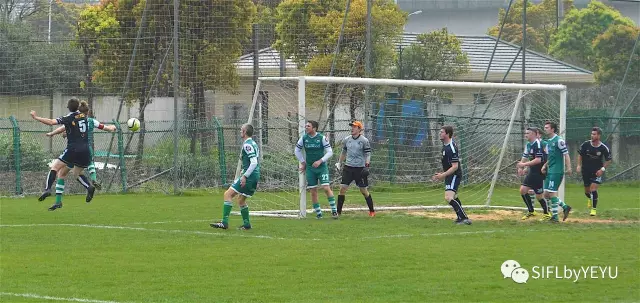 On minute 88, Stringer returned the favour and played Jonny Sellars through for a final 0-7 score line with Jack Greenwell picking up man of the match honors. With this win the Cosmos tops the table two points clear of the Vikings.
Cosmos went back to Tap House to watch Adam Stringer complete the customary triple shot of Fireball handstand for his hattrick and engage in lively debate about which player most resembles a character from Game of Thrones. Hodor!!
---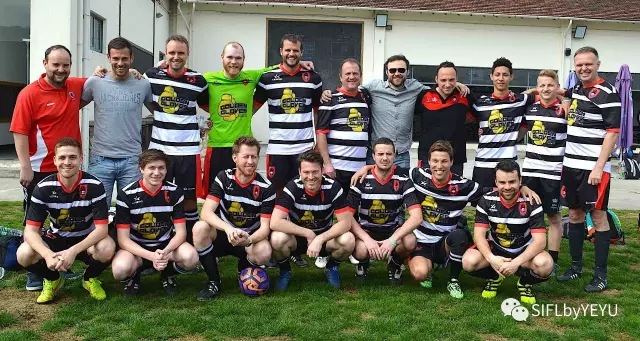 Kangbei United FC lined up to play versus Voodoo Child. After having nearly a month off, there were some slight concerns as to whether VC were being disciplined with their fitness. Dicko liar staying true to form by declaring on the bus ride over that he no longer eats and basically only drinks from time to time.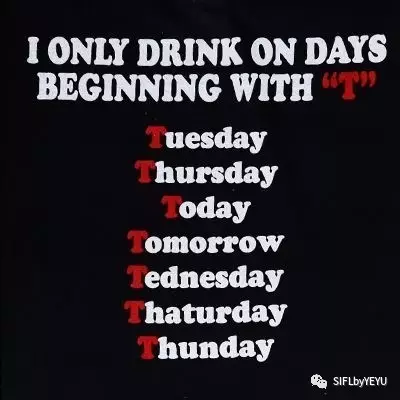 A positive of the long lay off was some extra time for the depleted ranks to return from injury. At kick off it looked all so easy, VC lined up with 16 and Kangbei with 10. Danger man Jackson Katta and Disney's knee highlighted by Jules.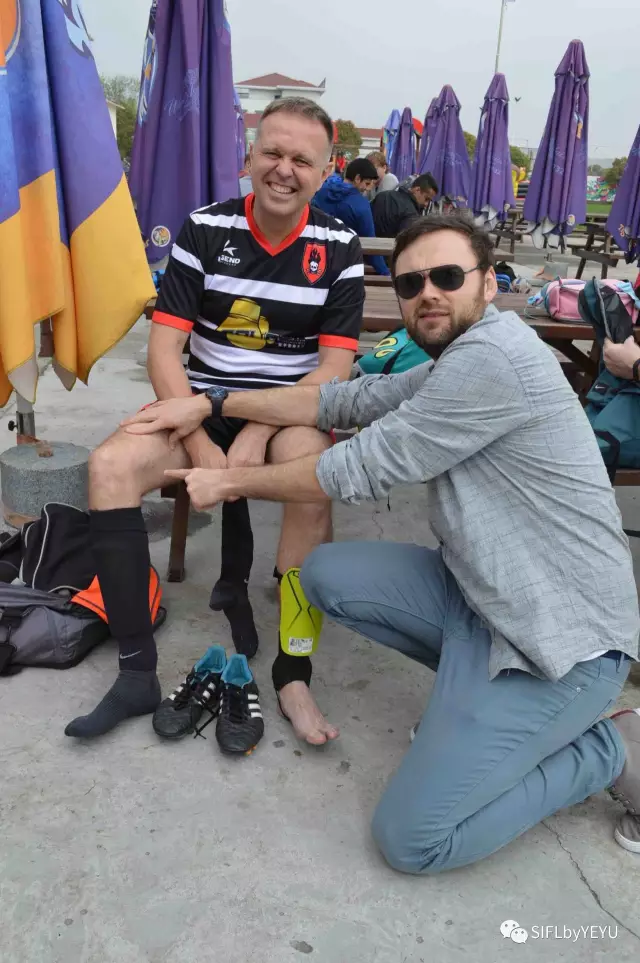 Ten minutes in, all was looking splendid for VC, some great work on the right by young Luuk Drediute, using his pace and vision on the small amount of grass remaining to link up with new Jesus and young Henrik for a great finish and a 0-1 VC lead.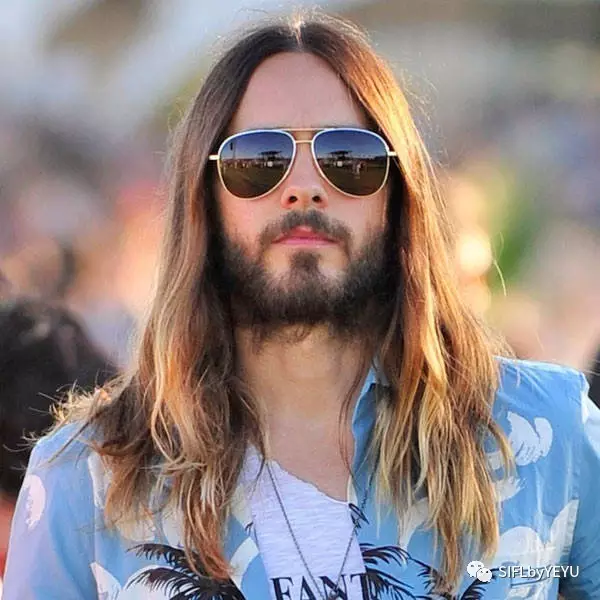 However in 2017 VC have made hard work of it and the Kangbei danger man Jackson Katta, although isolated, injured and possibly working to Dicko's regime, managed to score two in quick succession to send Kangbei up 2-1, which it remained until halftime and manager Kam had a sulk on.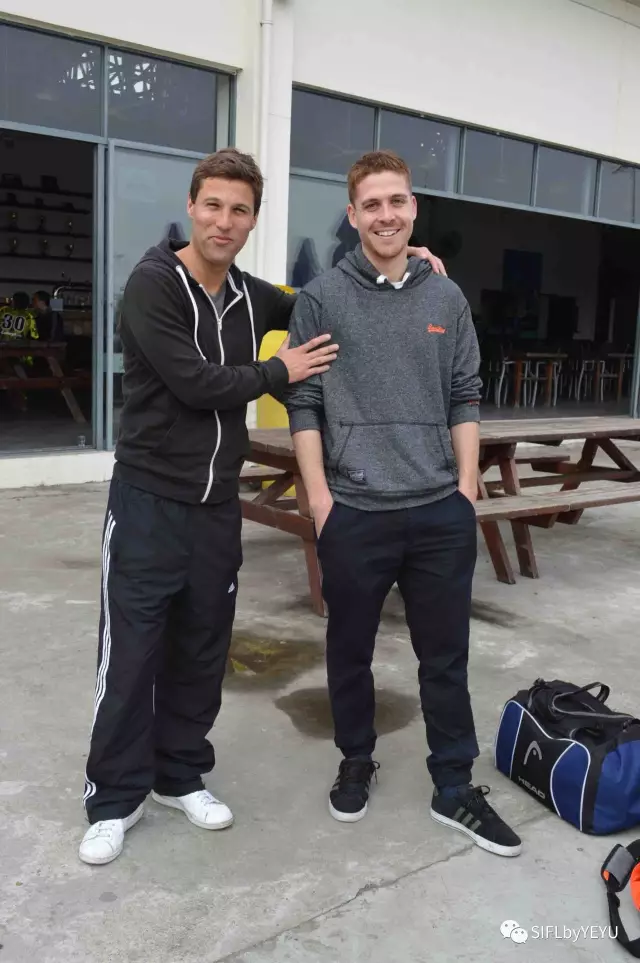 Another halftime good cop bad cop episode was conducted with Kam & the Cossack, a change of formation was implemented and to great fanfare, the founding member of the OCC (see OCC website for details) was introduced into the middle of the park.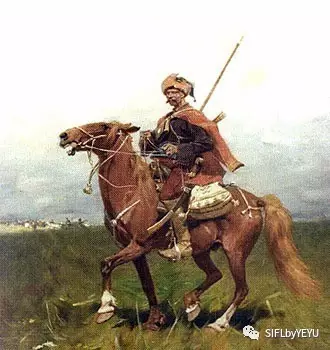 VC came out with much more energy and Santa slid in to convert a great cross from Fat Nick in the first couple of minutes to restore parity at 2-2 and it was all VC from there on in. Santa bagged his second for 2-3 and young Luuk got the goal his hard work deserved for 2-4.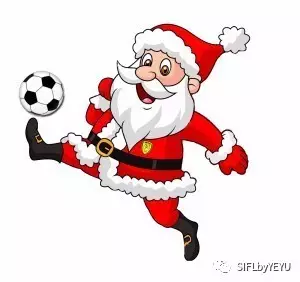 Irish, Rob and Kam all came on for mini Cameo's, but match fitness is still some way off. Minion in goal will be out for several months, warm regards to Dicko for stepping up between the sticks again.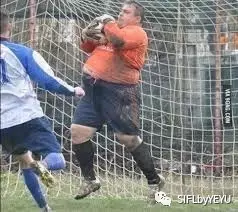 A good game and respect between the sides with no cards distributed. The lady ref marshaled well. VC'S Nicolas Lewis picked man of the match honors. Jules: "I eat danger men for breakfast."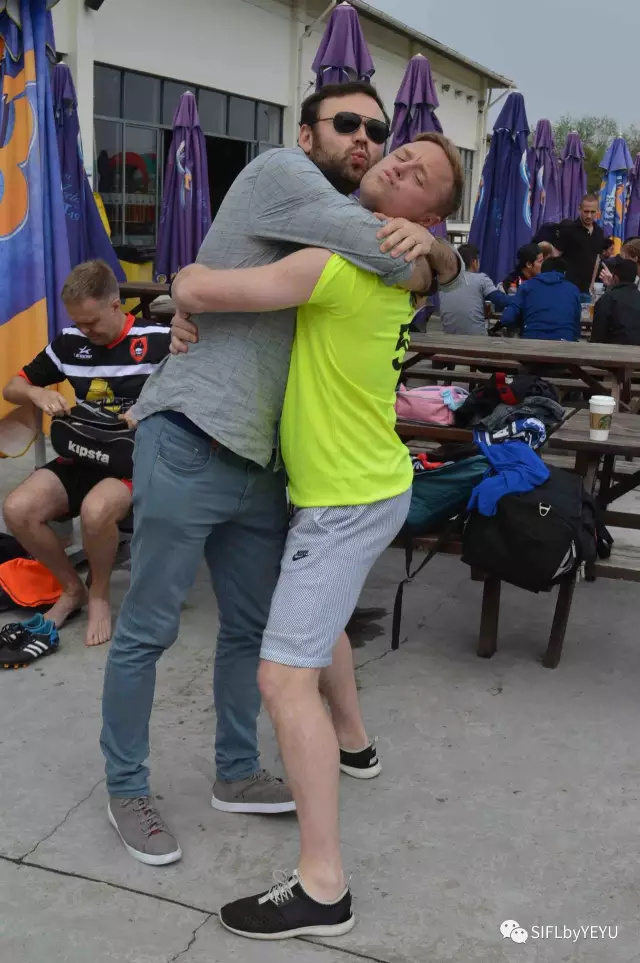 ---
Voodoo faced HFC on the day. With the Voodoo squad unusually full, there was an air of optimism about as Magic Sam Woollard announced he was "Fackin well up for it". This optimism was helped by HFC's starting line-up of just nine.

The game got under way with long spells of Voodoo pressure with Evan Kleinberg, FX, Ben Avery and Rooney pressing HFC's defenders relentlessly. Voodoo were rewarded for their efforts as Sam Woollard forced an own goal, finishing off a tidy move down the right for a 1-0 Voodoo lead.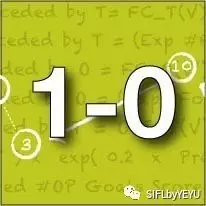 The remainder of the half followed this pattern with voodoo squandering several chances, Joey Rooney defying the laws of physics with one effort, while Avery, FX and Kleinberg all getting close.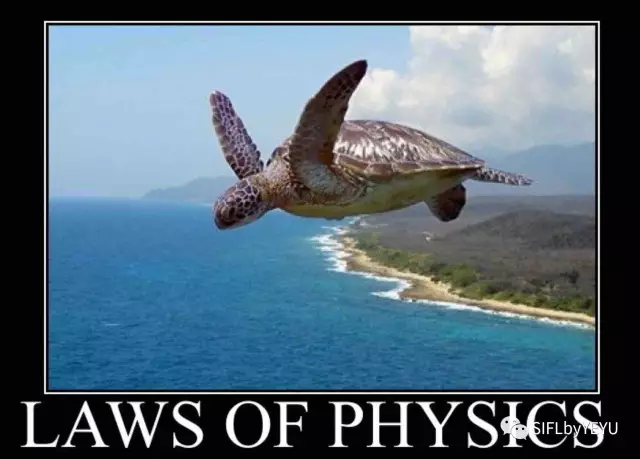 With the half drawing to a close, Voodoo were handed the chance for a second when Olivier Courades went down under a 'robust' challenge while contesting a corner. Kleinberg stepped up to drive home for a 2-0 lead at halftime.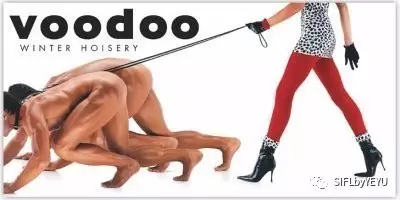 The second half saw Voodoo continue to dominate, with the electric pace of George, Mike and Jack keeping HFC at bay. Meanwhile the midfield and attack combined well, causing havoc for the HFC defense.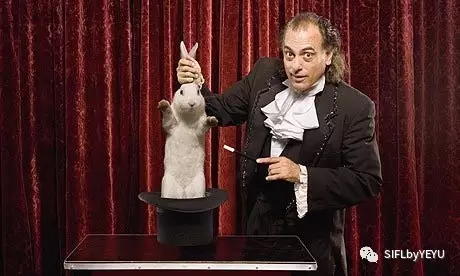 It didn't take long for Voodoo to make it three as Magic Sam pulled a rabbit out of the hat with a 55-yard lob and 3-0. The fourth arriving 10mins later as Evan Kleinberg finished off a great team move by lofting the ball over the keeper for 4-0.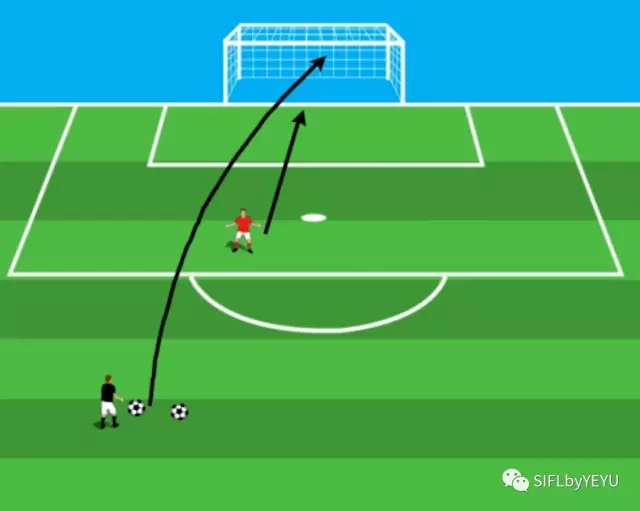 Voodoo continued to pile on the pressure, with the 'harassment' skills of the forward line impressing Jack Webster on the sideline. Voodoo made it 5-0 as Derreck Lilly arrived late to smash home from the edge of the area.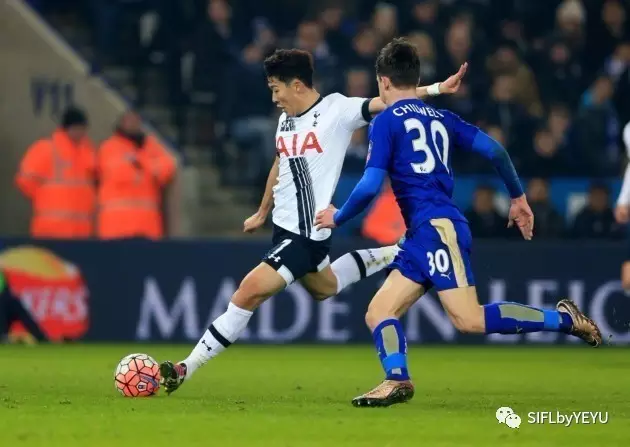 Voodoo then completed a hat trick of lobs as FX finished for 6-0. Liam rounded off the scoring with minutes to play to make it 7-0. A well deserved three points for the Voodoo with Evan Kleinberg picking up man of the match honors.
---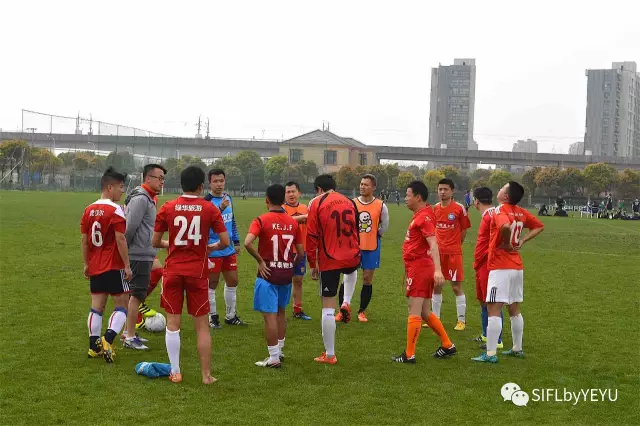 Long Tang AFC were pitted against Shanghai Tianfu FC in a Chinese derby. Both teams came prepared though some of their kit got lost in the washing.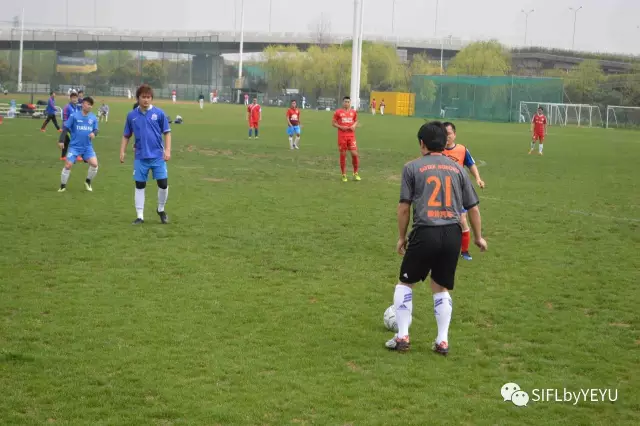 Once the match got underway Long Tang played the most dominant of football and created the better chances.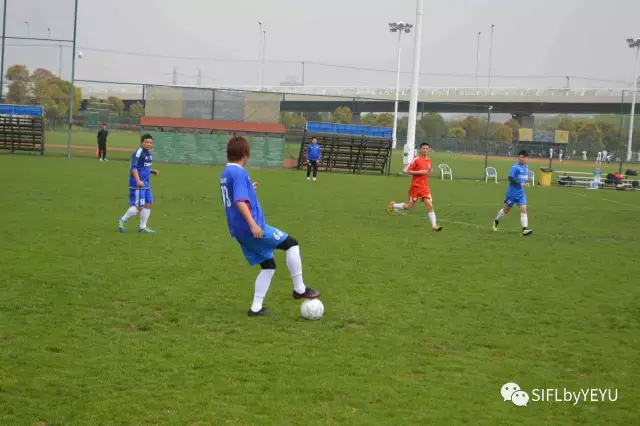 Their power play paid of as Long Tang found the net twice in the first half for a 2-0 lead at halftime.
In the second half, Long Tang continued to create opportunities and that yielded another goal for 3-0 and that's how the contest ended. Renwu Yi (2) and Yi Ding scored the goals with Long Tang's Lei Yang picking up man of the match honors.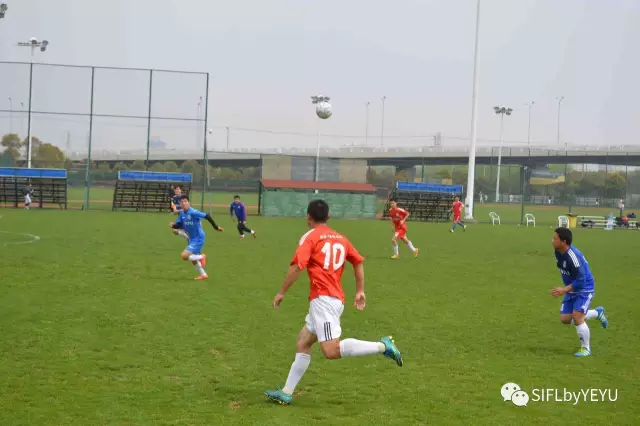 ---
STANDINGS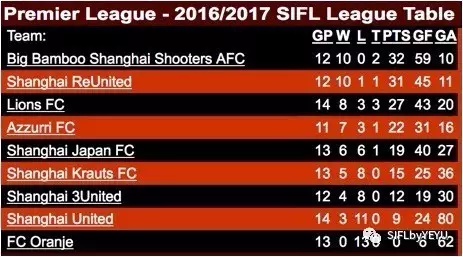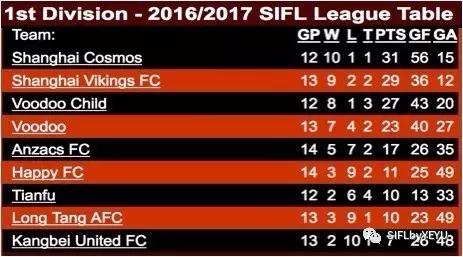 ---
Shanghai International Football League
Visit the official SIFL website to find out more.http://www.eteamz.com/SIFL/
Tom Bus