[SIFL News] Round 5 – Games played on 29 Oct 2016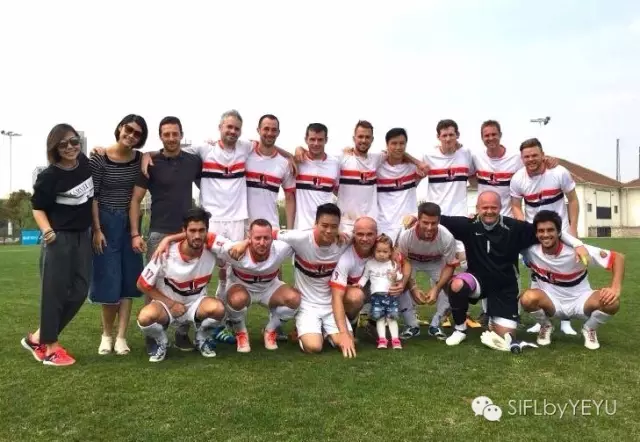 Premier League
Big Bamboo Shanghai Shooters AFC (above) move to top of table with win over Shanghai United. Shanghai Lions FC book narrow win over Shanghai Krauts FC. Shanghai Japan FC triumphs over Shanghai 3United. Shanghai ReUnited beats FC Oranje
First Division
Shanghai Vikings cements first spot with win over Anzacs FC. Happy FC beats Kangbei United FC. Voodoo Child records biggest win ever versus Shanghai Tianfu FC. Long Tang AFC edges out Voodoo.
---
In the Premier League, Shanghai United locked horns with the Big Bamboo Shanghai Shooters AFC. The Shooters came with a squad of 18 and well prepared to do battle with a strong United side. They were in for a surprise and United had a brilliant start of the game.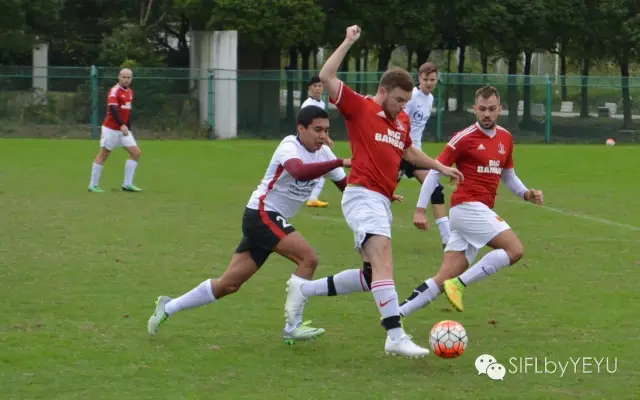 United's in form striker did well when he finished off a fluid United attack and opened the scoring taking a 1-0 United lead. Soon thereafter they doubled the score and slotted home a second taking a 2-0 United lead. An upset seemed very much likely.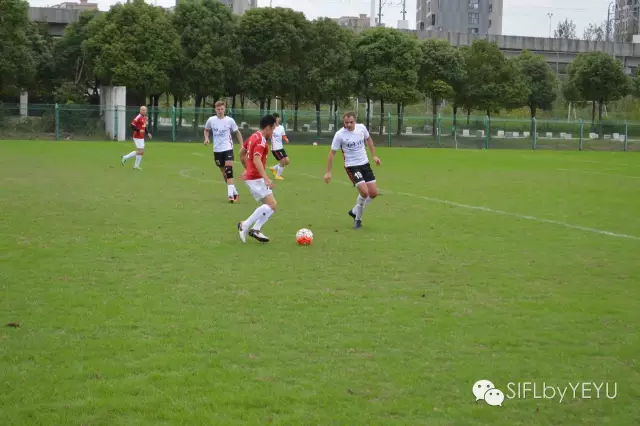 Going 2-0 down firmly woke up the Shooters and from that moment on they upped the anti pushing United back. Within 15mins they were able to even out the score at 2-2. Just before halftime Gui Leclercq rounded off another Shooters attack going into the break 2-3 up.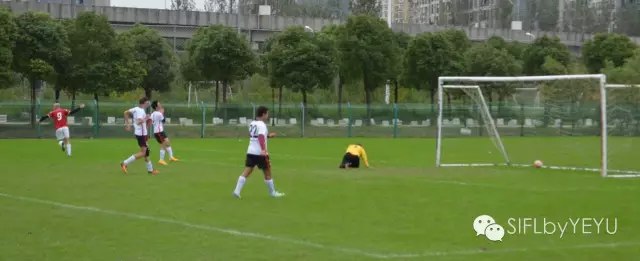 In the second half, United lost a bit of steam and heads dropped somewhat. The Shooters train just moved on netting one after the other and when all the dust had settled 10 goals were scored and the Shooters had won the contest 2-8.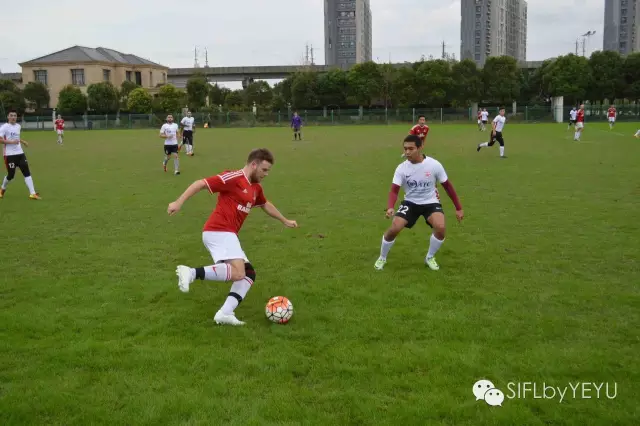 Kevin Wiessler and Mike McGirr scored two goals each while Gui Leclercq, Wilson Scott, Tom Webster and Stefan Sturm all netted one. Wiessler received man of the match honors. Zippy: "On course for Grand Slam."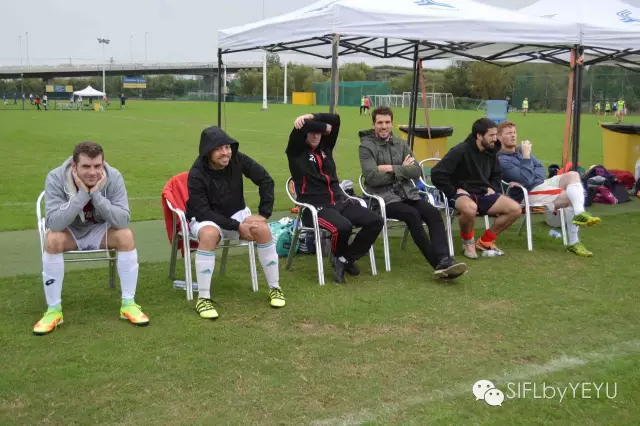 ---
Shanghai Krauts FC did battle with Shanghai Lions FC. Facing the Krauts, a combination of German winning mentality and fast counters with foreign players like Stanislav Korchazhinkii, the Lions opted to secure their defense first before thinking of attacking.
The Lions started well in the first 10mins with Big John (above)
making his first start after two years of injury misery. After that the Krauts took control with fast counters and sliced open the Lions defense but missing the final touch. After 15mins the French got a huge chance when Moussa Rouag got the ball with just the keeper to beat but his effort went wide.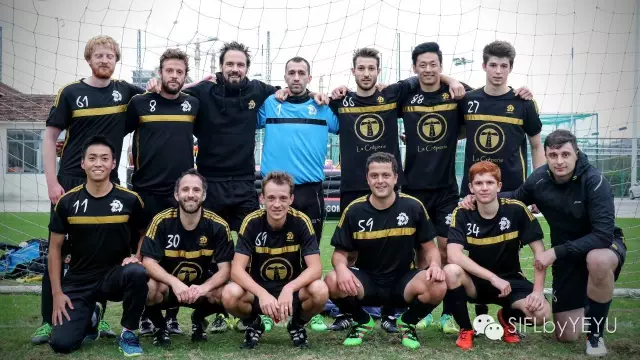 A few moments later Krauts' Azim Madaminov did the same in a one on one with the keeper. The Lions followed suit when towards the end of the half, Allan Mendel had a one on one but his effort went just wide as well and 0-0 it stayed after an entertaining first half.

In the second half, the Lions found new élan with talents such as Xu Lin (23) and new twins on the block Louis (19) and Pierre Castres (18). They took the game back and tested the keeper early in the half but the door of the Old Transvaal remained firmly shut and Jonathan Claesen kept his goal clean.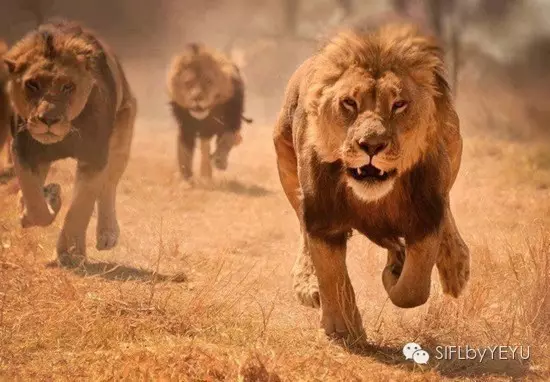 At this point the Lions were slowly finding their flow and fine-tuned their attack mode. Once that was up and running they zoomed in on the Siegfried line with a vengeance and created several chances pushing the Krauts back. New shoe Xu Lin played a great through ball for David Rosenberg to latch onto with just the keeper to beat. This time the ball went in the net and the Lions took a 1-0 lead.
The Krauts gave it a final push and in the dying seconds Mirko Franco had the equalizer on his boot but failed to convert from close range and 1-0 it stayed. Lions' Benjamin Guerin received man of the match honors. Dictator Bilgin G (above): "It was the worst defeat I experienced since being a coach, still suffer from it very angry. Krauts should have won 0-3 instead lose 1-0."
---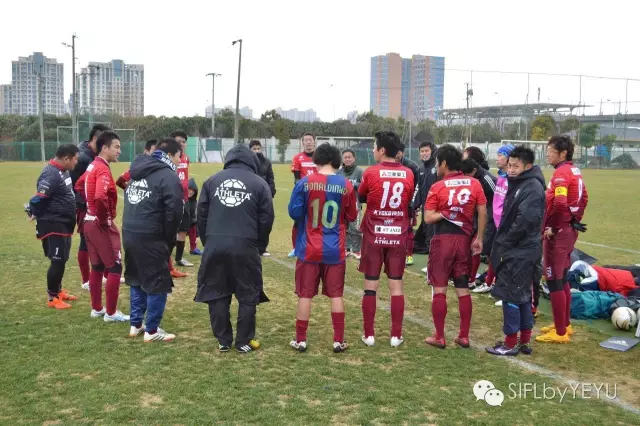 Shanghai 3United lined up versus Shanghai Japan FC. Having scored six goals in two matches but without a win, Japan came with a game plan to change that. They decided to build a solid defensive line from which to feed balls to the front.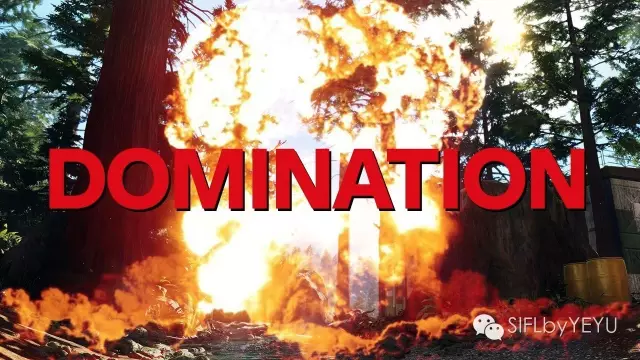 Japan dominated the play from the start while 3U struggled to find rhythm. After just 5mins they scored their first goal when new young striker Hiroki Kato found the net from a Mighty assist taking a 0-1 Japan lead. Then, Naoya Yokoyama played a lovely through ball that was finished off by Takuya Nakano for 0-2.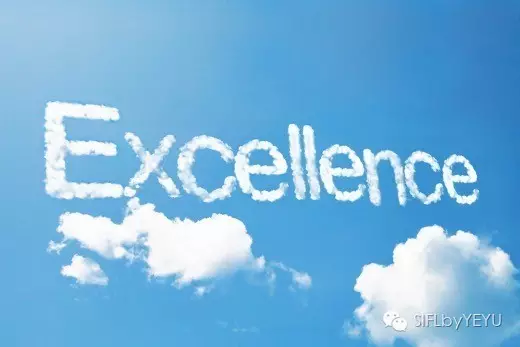 Japan continued with compact play and within 15mins launched two fast counters from which Kato scored another two goals completing his hattrick. Nakano had both assists. 3U scraped together a few attacks on goal but it was to no avail and the half ended 0-4 to Japan. The second half saw a much better performance on the whole from the 3United side but the first half battering clearly had an effect on their spirit.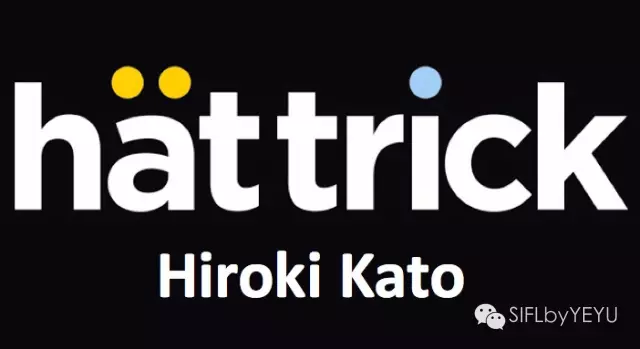 Despite some chances, 3U were unable to really test the Japan defense. On the other end, the 3U defense kept Japan at bay for the final 45 minutes. The match ended with Japan earning a well-deserved win over 3United. Takuya Nakano received man of the match honors with one goal and two assists.
---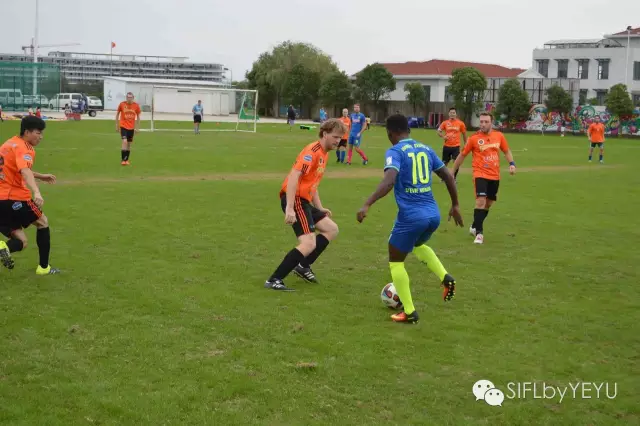 Shanghai ReUnited crossed swords with FC Oranje. ReUnited continued their good start of the season with a comfortable but well fought victory over Oranje. ReUnited stayed focused after taking a lead from a lucky break in he first half and prevented the Oranje franchise from coming back into the game.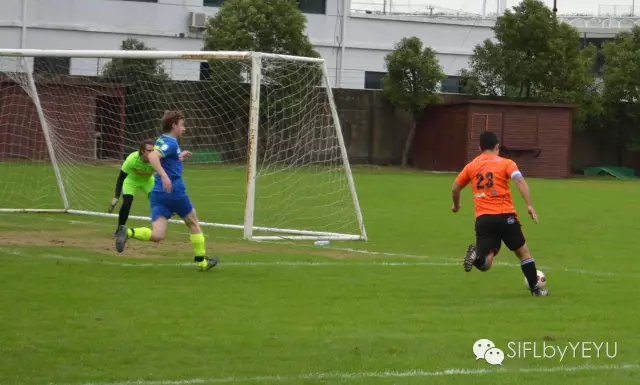 Oranje started well and had the first chance of the match when captain BK Mulder (#23) latched onto a through ball in a tight angle in front of the goal but his effort went just wide. ReUnited had several opportunities as well but Oranje were showing heart and organization making it hard for them to create good chances.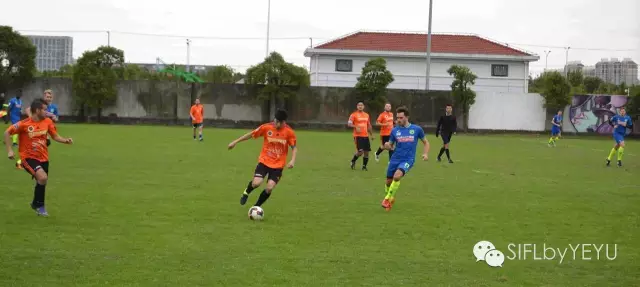 However, things changed when the Dutch sweeper cheaply gave the ball away to Adam Kling who suddenly found himself one on one with the keeper. The Iceman slotted home coolly taking a 1-0 ReUnited lead.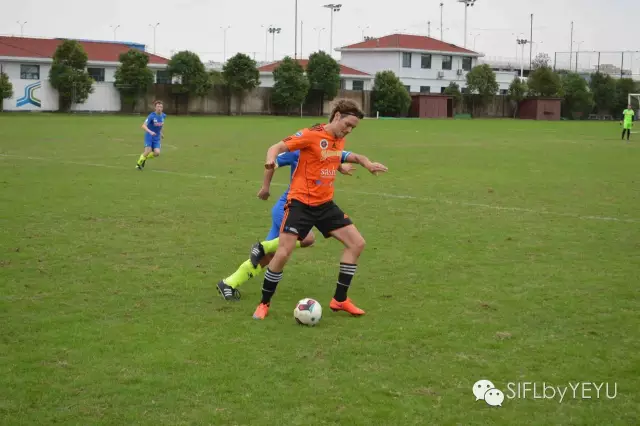 The match became more open after that. ReU's David Conrad hit the post with a curling shot while Karsten Knerr put a rebound over the bar. The half ended with a 1-0 score line.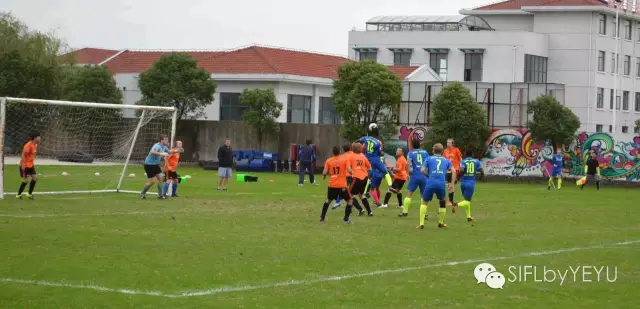 Oranje went to tea thinking that a result could still be on the cards. In the second half, they kept play organized with frank and free combinations on the midfield but without creating any clear-cut chances.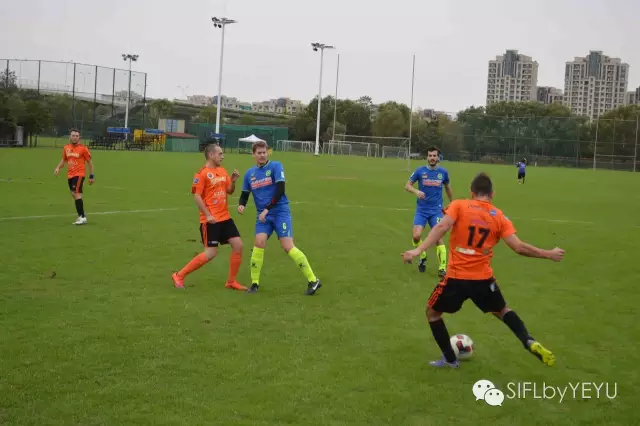 As the half wore on, Oranje became more fragmented losing some energy while ReUnited created several bankable chances. The Dutch stood tall though until 20mins from time when the ball bounced off the keeper for Sascha Höltke to tap in the rebound and 0-2.
Oranje kept playing and fought duels on a knife's edge to try and win the ball. They then mobilized free spirits from the East and knew a few new records would come their way. ReUnited kept pushing forward and scored a third at the death from another scramble in the tight Dutch box.
Initially the Oranje keeper saved Karsten Knerr's half turn volley from a corner but it fell friendly to ReU's Essien Foba (left below next to Adam Kling, Tom Bus and Sascha Höltke). He finished well from close range and determined a final score of ReUnited 3, Oranje 0. It was a fair contest without cards.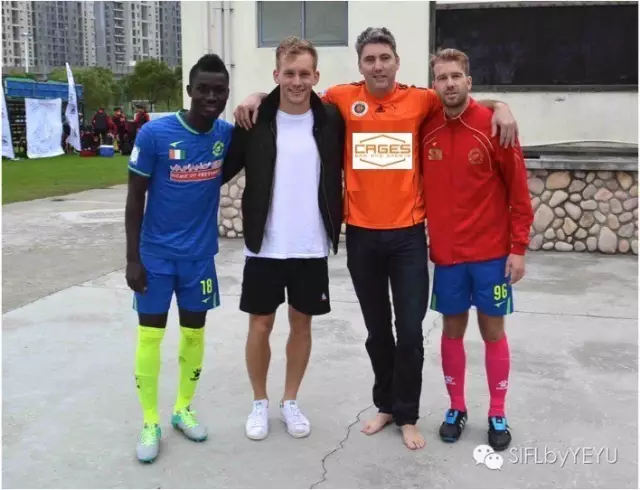 Viking Adam Kling received man of the match honors. The Oranje franchise was in a buoyant mood as well and went on to Cages to celebrate new match, coach & cap records☺ Life is great with Oranjeboom in it! Herr Flick: "A potential slip up was avoided. Helga must be pleased!"
---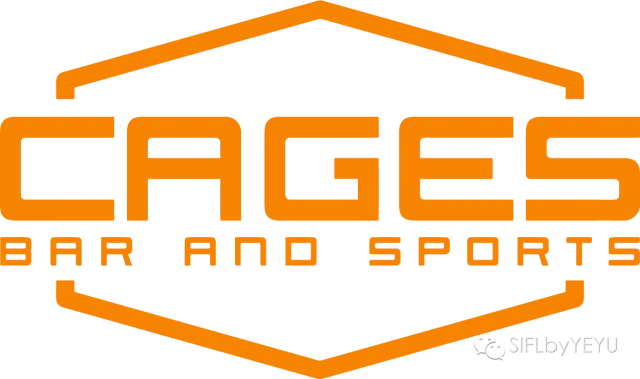 Azzurri FC lined up to play no one in particular. In fact, the men in blue had a by. Instead, they all went down to Cages-best sports bar in China-for games beers & burgers and celebrate Andrea Speranza's 58th birthday. Congrats mate-old horses never die!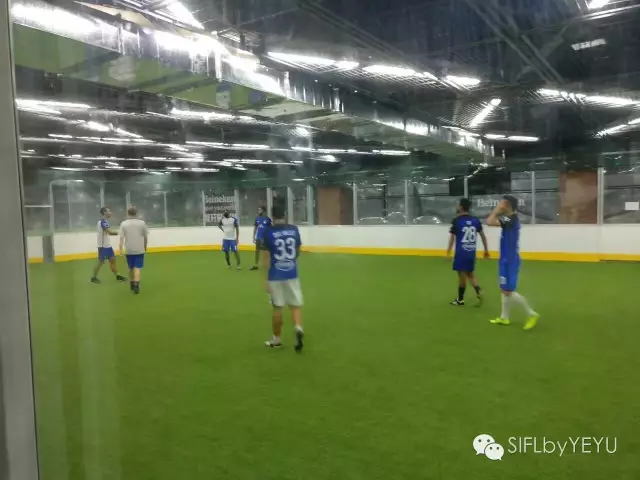 ---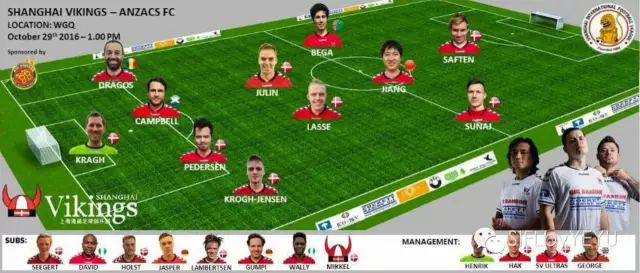 In the First Division, Anzacs FC were up against the Shanghai Vikings FC. The Anzacs defended with its newest addition Steve Watson (#32), he defied his years with an excellent diving header at the back post to prevent a certain goal for his team.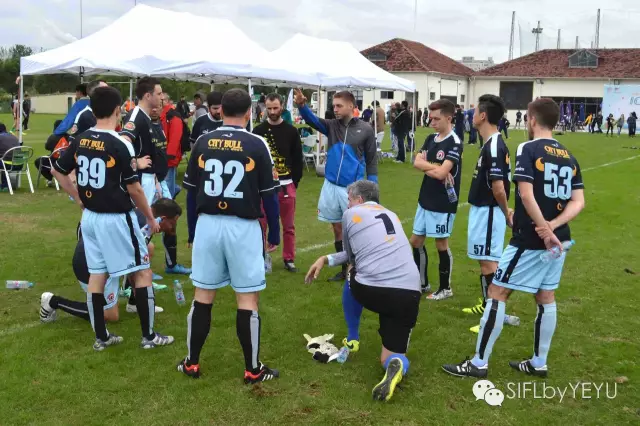 Neil Beckitt (below) was present and on message to try and score a sixth goal in his fourth match. Beckitt: "I was destined to become a poet but my dad said 'Son, you got magic feet go play ball.'"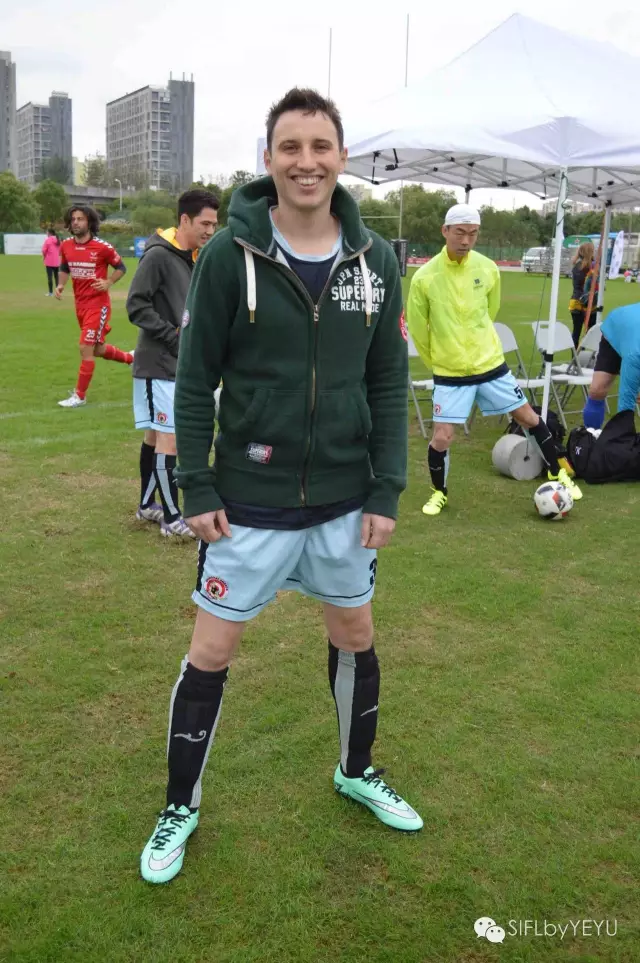 The Anzacs defended well and in numbers and threatened on the break. The first 30mins went by fairly uneventfully with the main excitement coming from a hot rugby girl playing on the adjacent pitch.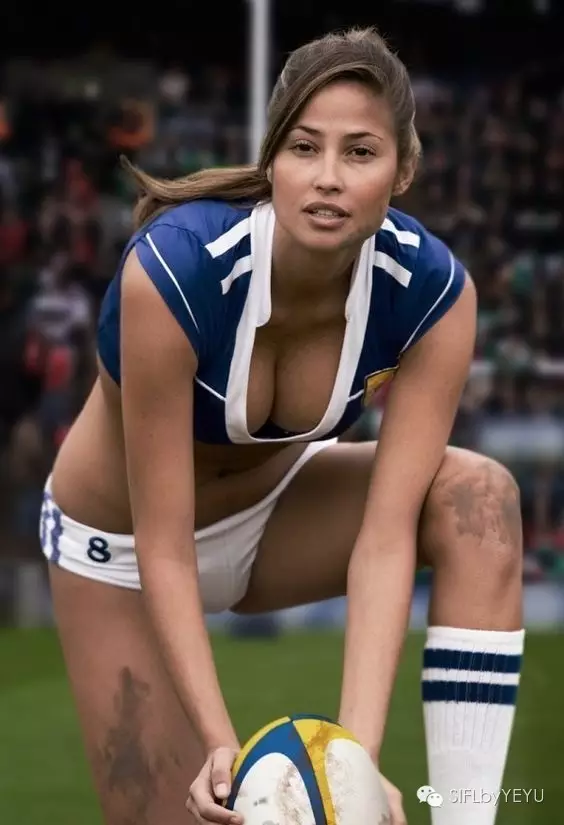 The Vikings had the first chance of the match when Adewale Adebowale received the ball from a Begench Garahanov cross nine yards out. With only the keeper to beat he sent his effort into orbit.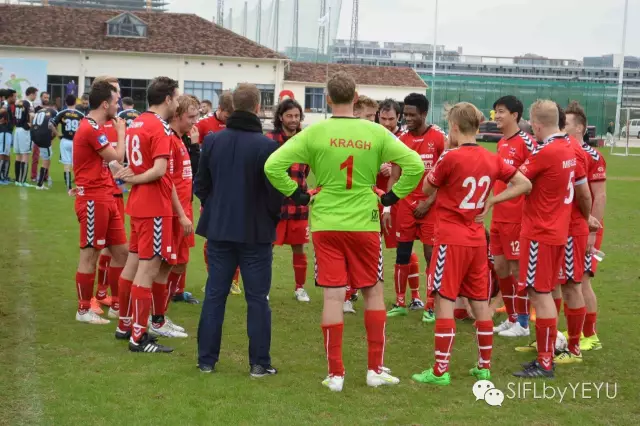 As the first half was drawing to a close, the dominance of the Vikings became transparent and a goal seemed inevitable. In the 38th minute it came, after good play from Jasper Scheuermann and Adebowale, Gumpi slotted the ball to a waiting Stefan Søgaard who calmly placed the ball in the back of the net for a 0-1 Vikings lead and that's how the half ended.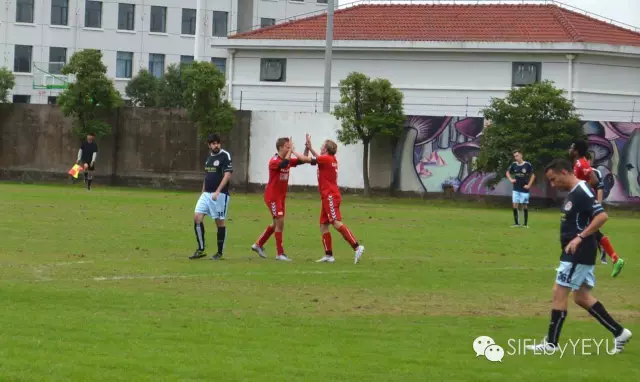 The second half got under way with the Vikings controlling possession but struggling to convert in the final third of the pitch while the Anzacs created several dangerous moments from fast breaks. Resident screamer Scottish Viking Lesley Campbell became so angry at Denmark he was mainly just shouting in vowels that he learned in a swearing contest on Hawaii.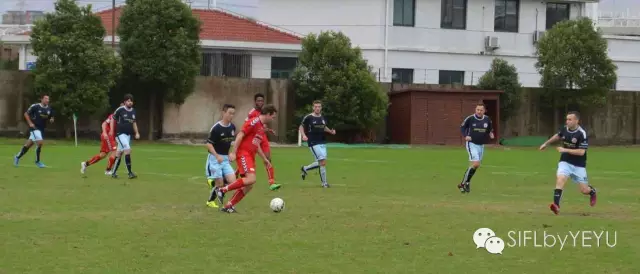 The Vikings had a good chance to take the lead via a header from Janus Olsen but Anzacs keeper Thorsten Kalus saved it well. Best chance of the game came towards the end when Mikkel Pedersen played an incredible ball through to Jasper Scheuermann who swiftly beat the keeper and when presented with the open goal, decided to kick it wide.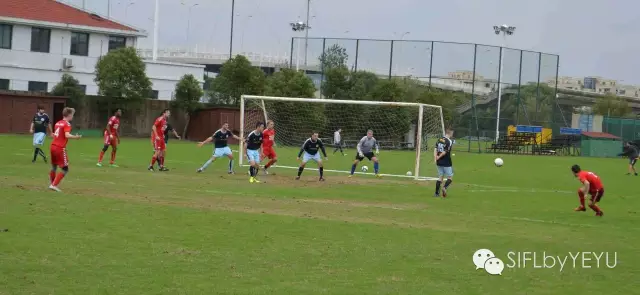 The Anzacs best chance fell to James Viera who narrowly volleyed wide from a tight angle. The match ended 0-1 with the Vikings sitting pretty at the top of the league and three clean sheets in a row! Viking Begench Garahanov received man of the match honors.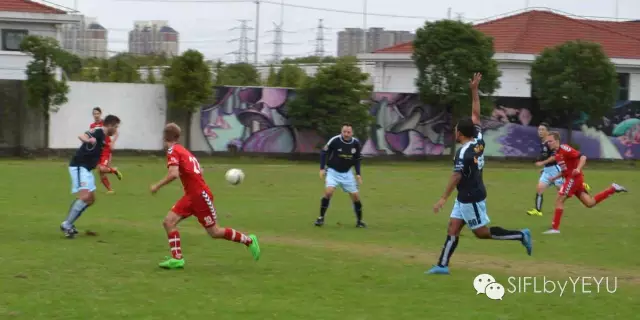 ---
Kangbei United FC played Happy FC. HFC started very well and dominated the first half. The Kangbei keeper had to fish the ball out of the net three times for a 0-3 HFC lead at halftime.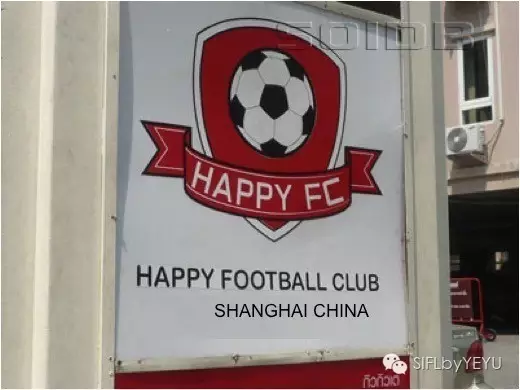 The ball was in Kangbei's goal another two times in the second half. Kangbei did score albeit in their own goal for a final 0-5 HFC victory. Wei Fang (2), Weijun Fan and Shiliang Zhu scored HFC's goals while their colleague Weijun Yang received man of the match honors.
---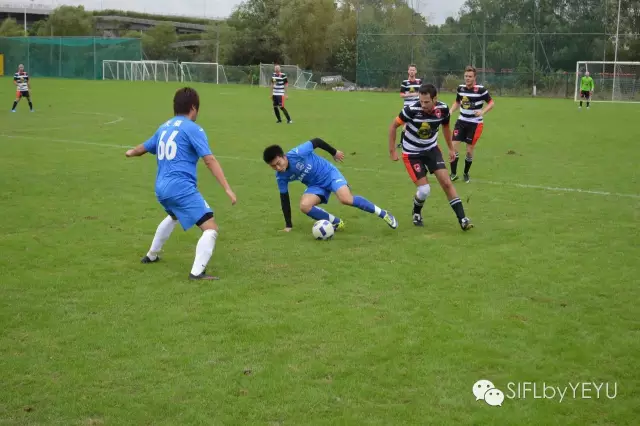 Voodoo Child took on Shanghai Tianfu FC. The Clash against Tianfu was a crucial one for the VC. With some reasonable performances only yielding a solitary point and with an inability to prevent his girlfriend from leaving him for the clutches of fellow players, manager Kam was under great pressure.
In a show of strength the 'special needs one' announced a squad of 20, crucified Sam 'Jesus' France for his previous performance and dropped the error strewn Tony Nogood.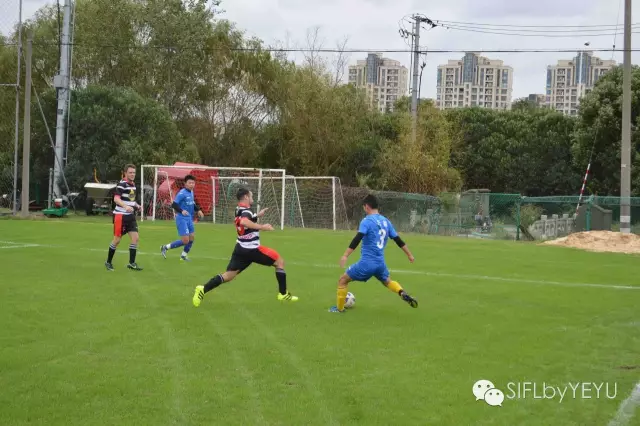 Within a short time of the game it became very clear VC had a management genius in their midst. Jesus was resurrected and bullying the opposition once more to create two quick goals for Brian 'storyteller' Claus and Tyler Draper taking a 2-0 VC lead.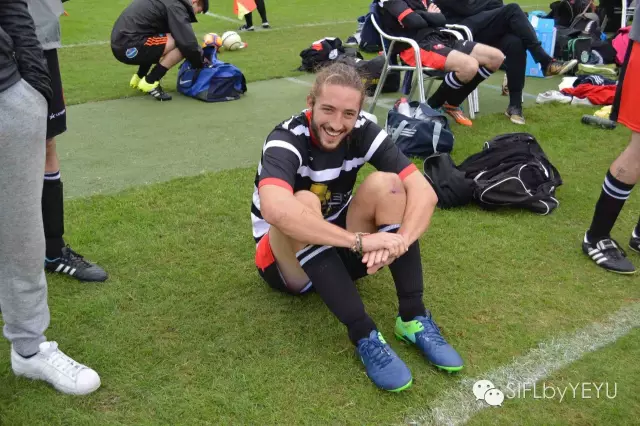 VC were quicker all round the pitch with some impressive closing down led by Irish Andy Cameron who showed the same aggression on the pitch as he did in the Camel on his first Voodoo drinking session.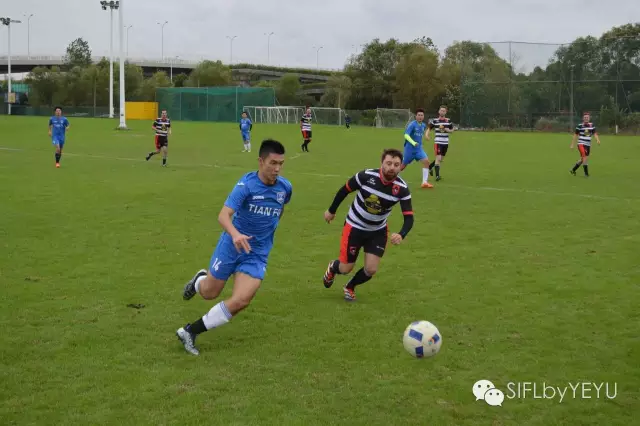 With the half nearing the end, VC gained two more goals through Jesus and Claus for 4-0. Tianfu struggled to cope with the delivery of Nick Lewis, who dealt with his inability to run by producing excellent crosses.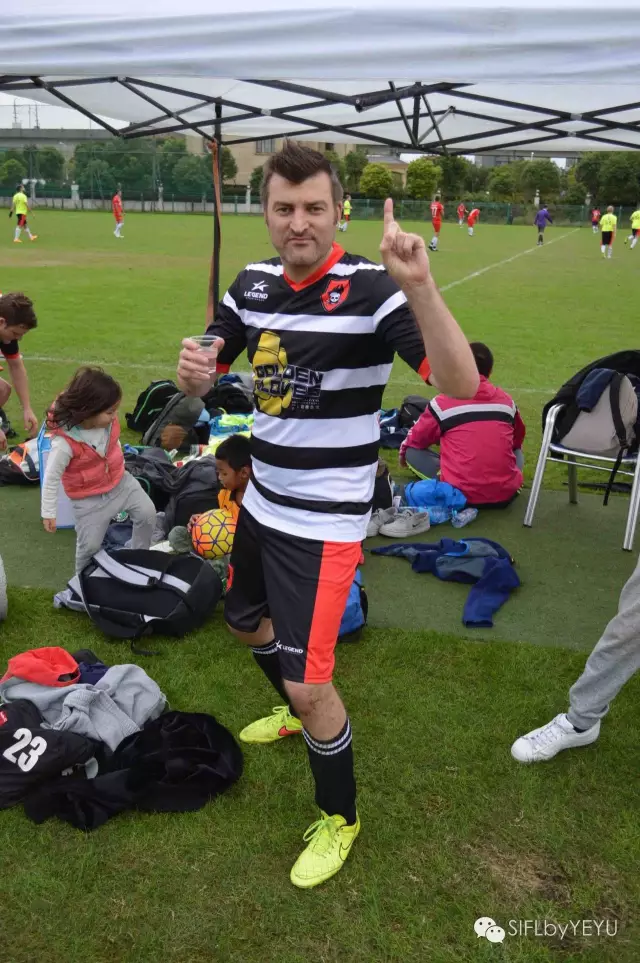 VC knew that things were all going their way when Super Kam's inspiring halftime team talk immediately had a desired effect. Within five minutes of the restart rusty Ned Kelly (above with kid) showed he was back to his best by scoring the best goal of the game through sheer determination and brilliance sending the VC up 5-0.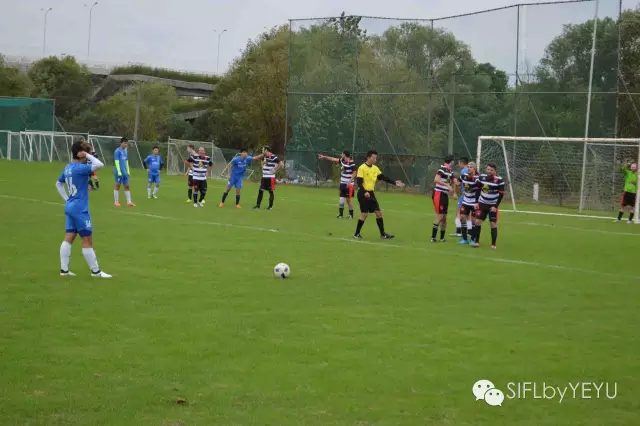 Tianfu briefly responded by replying with a quality passing move and a great finish by Tao Sun for 5-1 saving heavenly honor. However there was no stopping the VC attackers. Jesus and his new disciple Pat Mullarkey added further goals to make it 7-1.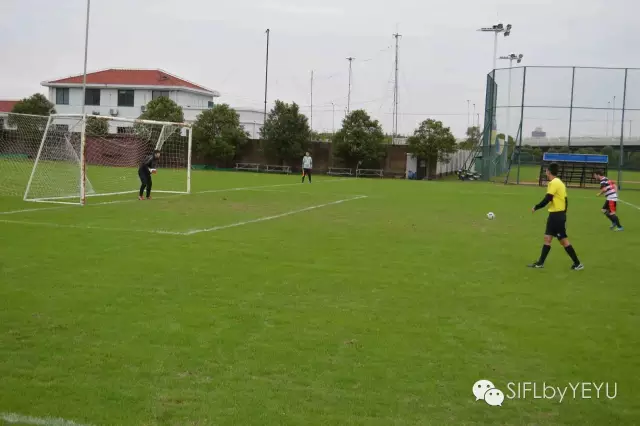 The scoring was ended with Santa (above) completing his hattrick with a penalty for a final 8-1 score line. Jesus received man of the match honors. Jesus: "Amazing what planking can do to you."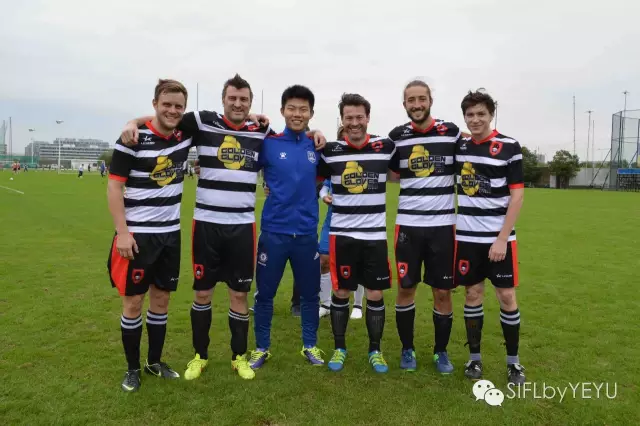 A fantastic performance by the squad, which ranks as VC's finest and biggest victory to date. Super Kam's smug Cheshire grin had returned and Chairman Dave went off to celebrate by drinking, vomiting and passing out before 6pm. Ian Dixon: "I'm back and it showed."
---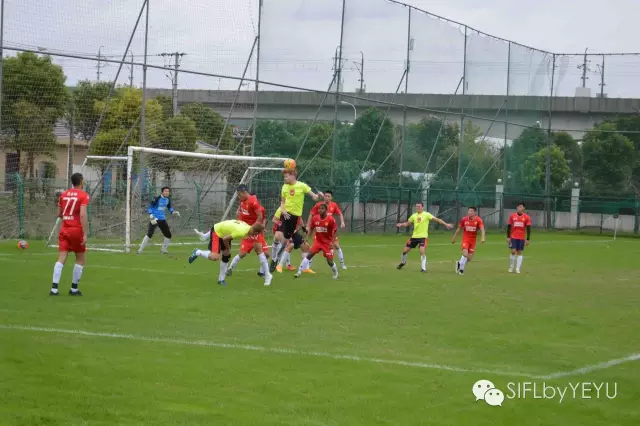 Long Tang AFC slugged it out versus Voodoo. Another week and another new look Voodoo lineup but this time because of a changed strip that made it seem they had got dressed in the dark – given the fact it was an ungodly 9am kickoff they probably did.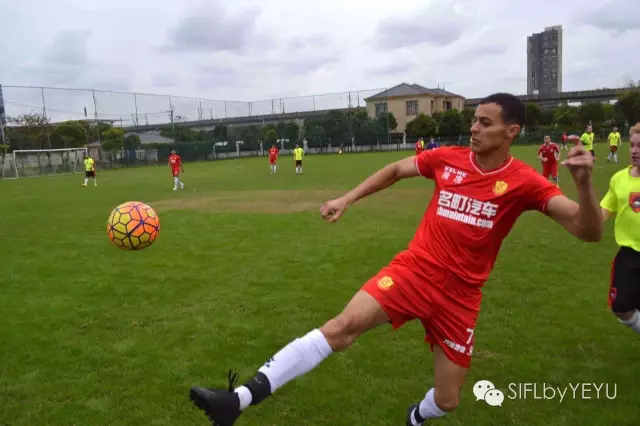 Anyway, it wasn't a fashion show but a football match, although apparently no one told Voodoo for the first half. Together with its new recruits, Long Tang overran Voodoo in the first half via goals by Ahamad Meouloud and Wang Rui. Combined with an abject Voodoo showing meant that they went into the break 2-0 down and lucky to be that, even if they had begun to work the Long Tang keeper as the match wore on.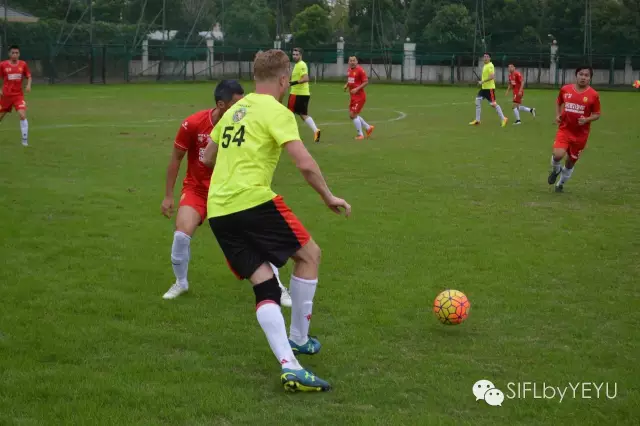 The second half was a different story. Voodoo pressed from the off and Evan Kleinberg won a penalty which was tucked home by Phil Boyle (#54) for 2-1.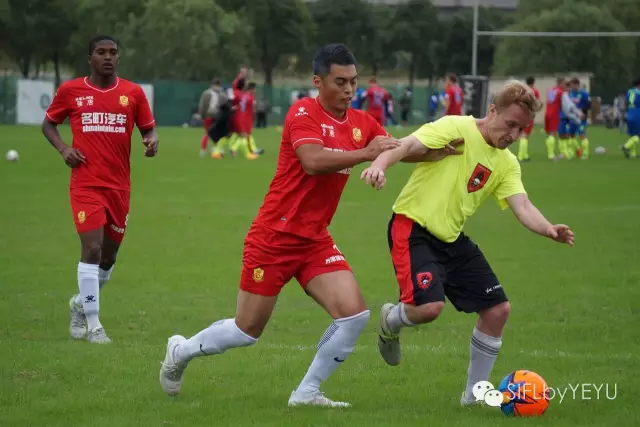 Long Tang kept putting pressure on the Voodoo defense and from one such attack Wang Rui scored his second of the day in a bit controversy but the goal stood for 3-1. Then it was Voodoo's turn when Kleinberg fed Jonny White to pull one more back at 3-2 and game on.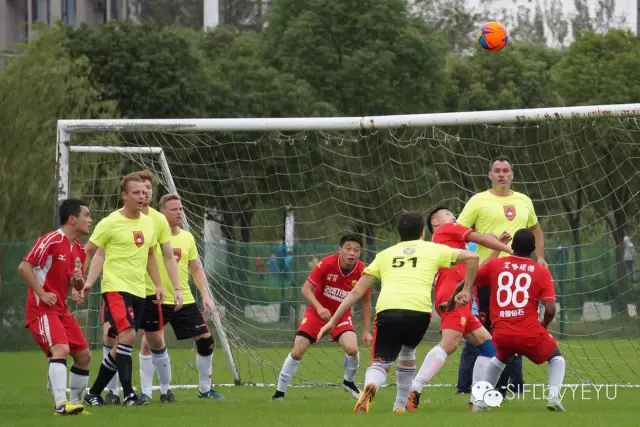 The yellow highlighter pen-kitted men's heads didn't drop as they searched for an equalizer: hitting the bar, the post and having a goal disallowed for one of many dubious offside calls. Long Tang's defense held out and the game ended in a 3-2 Long Tang victory.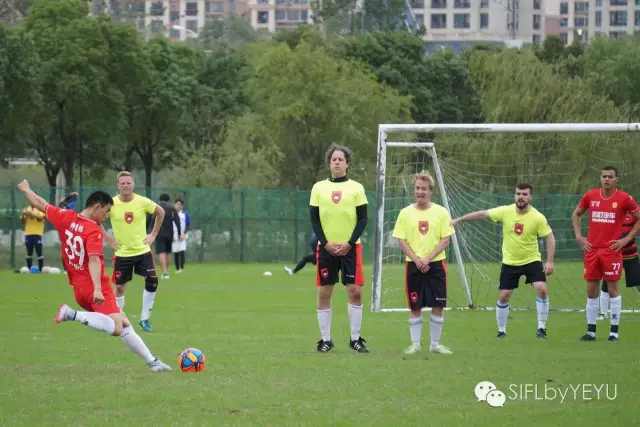 Great win for Long Tang, their new recruits played well. No points for Voodoo this time, deservedly after the first half performance, but great spirit after the restart that brought to mind Alex Ferguson's quote that his side never lost, they merely ran out of time.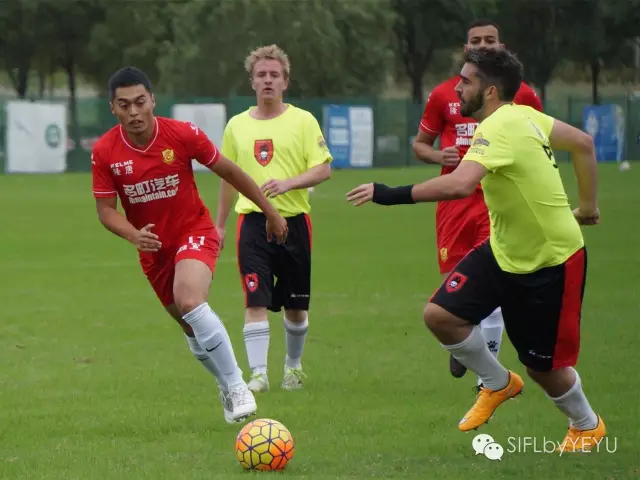 Jonny White's 6th goal in just 3 games saw him surpass Kyle Hayes' 5 goals golden boot performance of last season. Below goal scorers Jonny White with Wang Rui (2), Phil Boyle and Ahamad Meouloud. Long Tang's Jing Guodong received man of the match honors.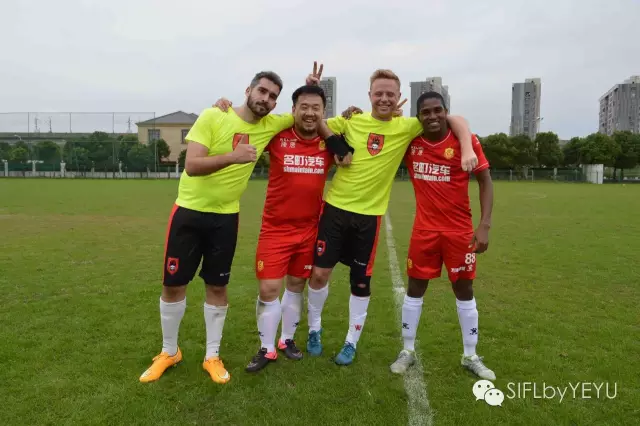 ---
STANDINGS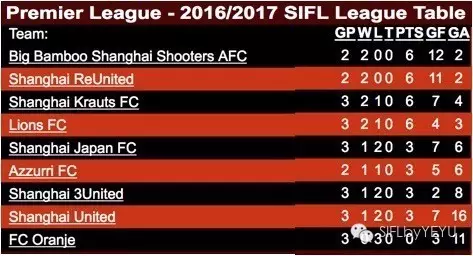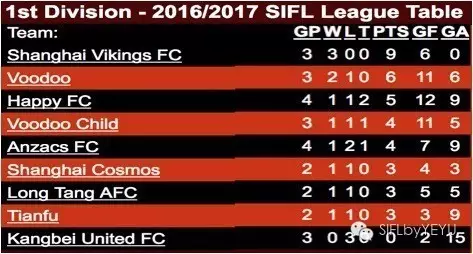 ---
Shanghai International Football League
Visit the official SIFL website to find out more. http://www.eteamz.com/SIFL/
Tom Bus
---

Do you want to join us doing sports? Be part of our team and be active with us. Let us help you to be more into sports like never before.
你想加入我们一起运动吗?成为我们社区的一员,积极与我们联系。让我们帮你变得更有运动范儿
YEYU "让运动不再独行"
YEYU "It's part of the game"
Follow YEYU on WeChat:
(长按二维码,选择识别图中二维码即可关注)