[SIFL News] Round 8 – Games played on 19 Nov 2016

Premier League
New kit inspires Big Bamboo Shanghai Shooters AFC (above) versus FC Oranje. Shanghai Japan FC win versus Shanghai United. Shanghai Lions FC draw in last minute versus Shanghai ReUnited.
First Division
Voodoo and Shanghai Vikings FC share the spoils with tie. As did Anzacs FC versus Tianfu. Shanghai Cosmos beat Kangbei United FC. Happy FC edge out Long Tang AFC.
---
In the Premier League, Shanghai ReUnited maintained their unbeaten start but lost momentum in a pulsating 1-1 draw with champions Shanghai Lions FC. It felt like a defeat for ReU with the Lions equalizing in the 89thminute.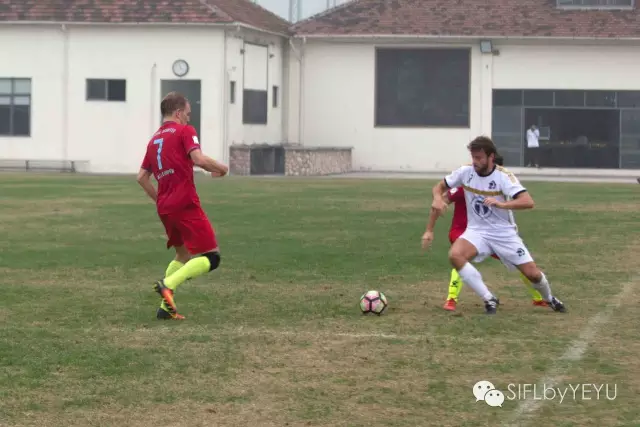 It was a typically tight and hard fought game against the French and ReU struggled to create chances in the first half. The French had a couple of shots on goal which keeper Cody Ahlstrom was largely untroubled by.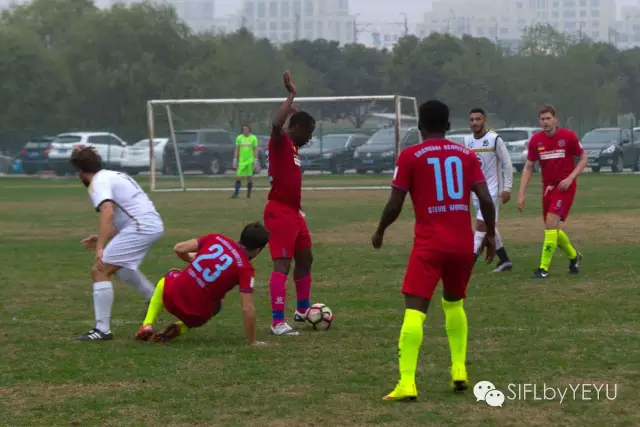 ReU almost took the lead when Karsten Knerr curled a high ball into the box and Mandela flicked it on for the onrushing Adam Kling. His shot was well saved by French keeper Radouane Guissi.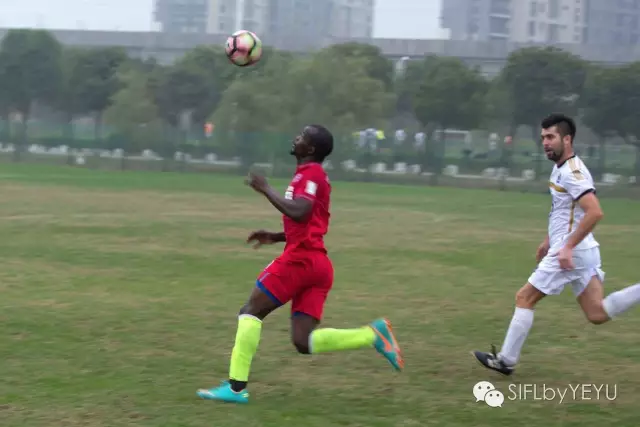 The second half was a different game with more space available for ReU's attacking players who were getting into their groove. ReUnited then scored the opener when Adam Kling's low shot found the net for a 1-0 lead.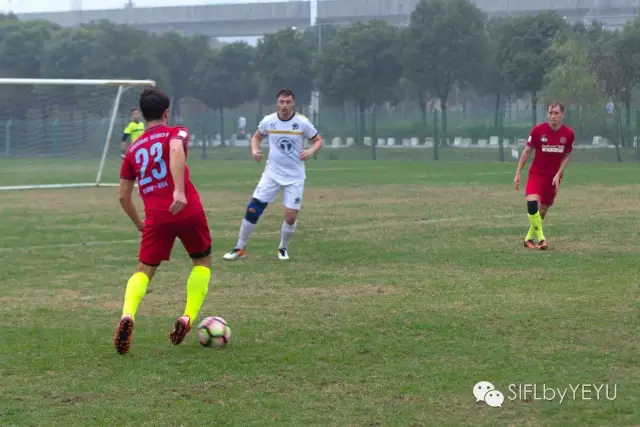 The Lions then had to come out leaving ReU with lots of space for counter attack. ReU missed several chances to score a crucial second to put the match to bed and in the end were punished for it.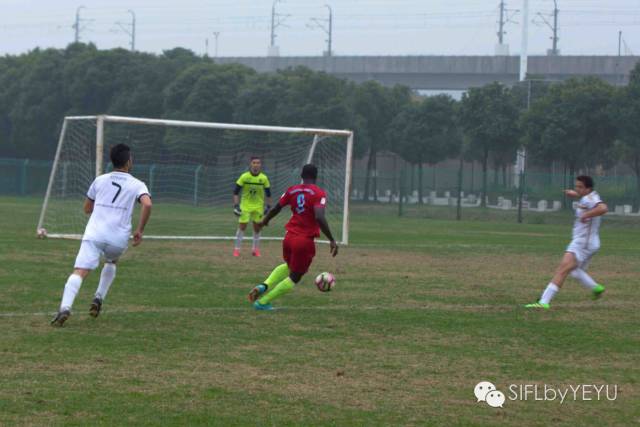 With close to 90mins on the clock it was a brilliant pass from captain Benjamin Guerin that found David Rosenberg on full speed. He didn't hesitate and expertly lobbed the ball over the keeper into the goal for the equalizer and a final 1-1 score line.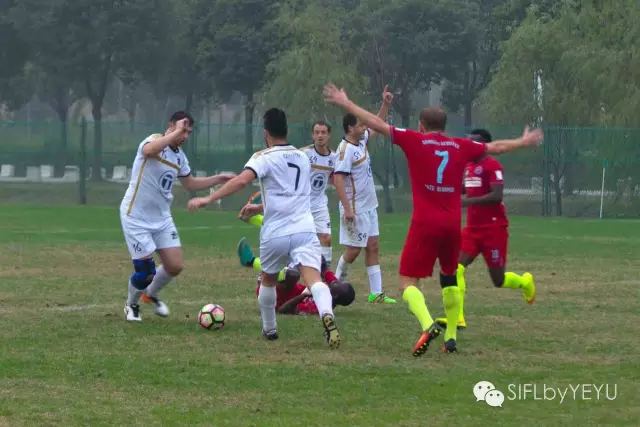 Heartbreak for ReUnited but a fair reflection on the balance of play. ReUnited's Ronald Kana and Lions' Radouane Guissi received man of the match honors.
---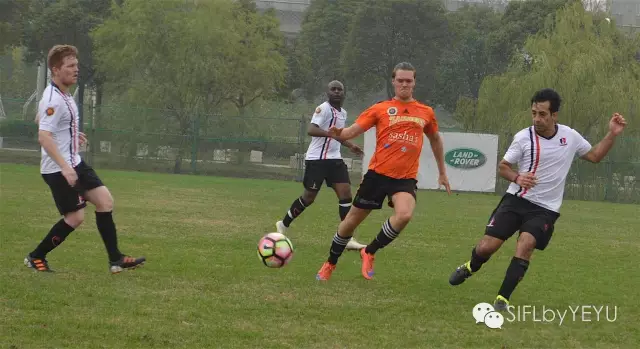 FC Oranje played ball with the Big Bamboo Shanghai Shooters AFC. The Shooters came with their new kit and that inspired them to great heights. Oranje tried to keep the nil as long as they could.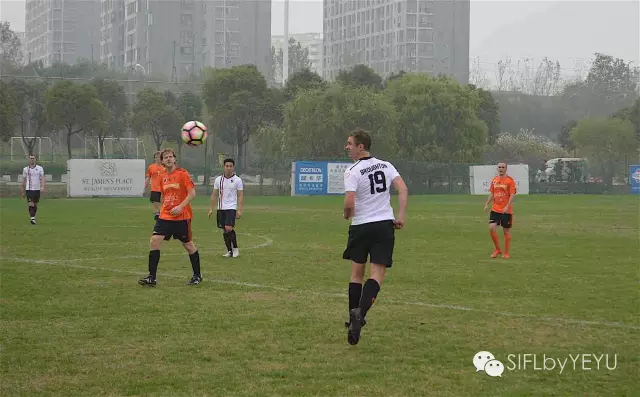 The Shooters piled up pressure to try and score an early goal. From a corner the ball got defended out towards the 16 where Alejandro Kamke volleyed home leaving the keeper stunned and 0-1 to the Shooters. It was the lead they wanted after just a few minutes of play.
The Dutch then tried to play counter to get a goal back and managed to execute one that tested the keeper. Marijn ten Wolde's shot was easy prey for Chris Banyard and 0-1 it stayed.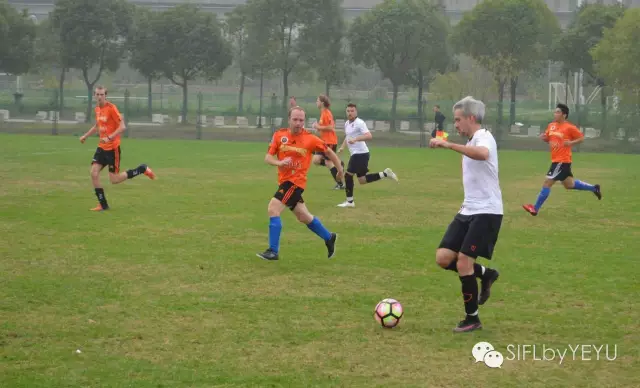 At the other end the Shooters kept pounding on the tight Dutch box and Roland Broughton found the net doubling the score to 0-2. Just before the half was over they managed to score another for a 0-3 lead at halftime.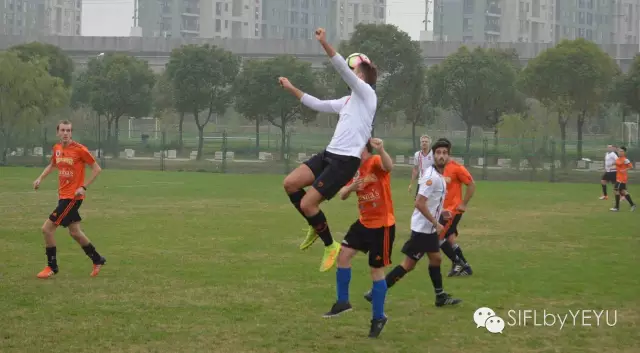 The Shooters continued in the second half and quickly scored to make it 0-4. Ten minutes later the Oranje keeper had to fish the ball out of the net another three times for 0-7.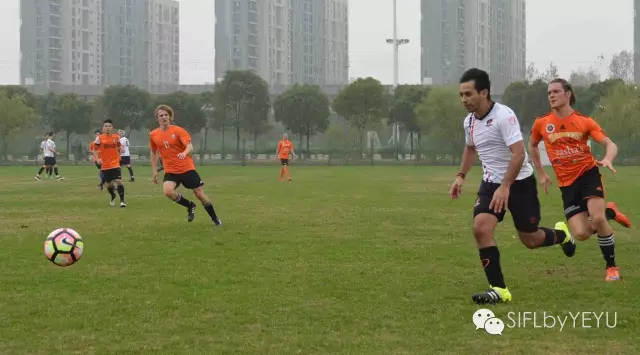 The men in orange then mobilized the cap record holder to try and turn the game. It yielded immediately as the best goal of the match was under way by mambo number 15.
Aurelien Souici dribbled over the halfway line on the right then noticed the Shooters goalie standing off his line a bit. Souici took a good look at the keeper and fired a great shot that curled in the top left of the goal for 1-7.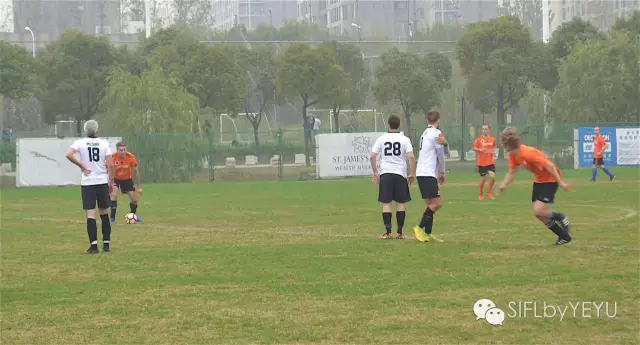 Oranje then concocted a daring plan to try and score 7 quick goals by launching Daan van Eijkel from kick off (above). It dramatically backfired as two more goals were scored at the other end for a 1-9 Shooters lead and that's how a lopsided contest ended.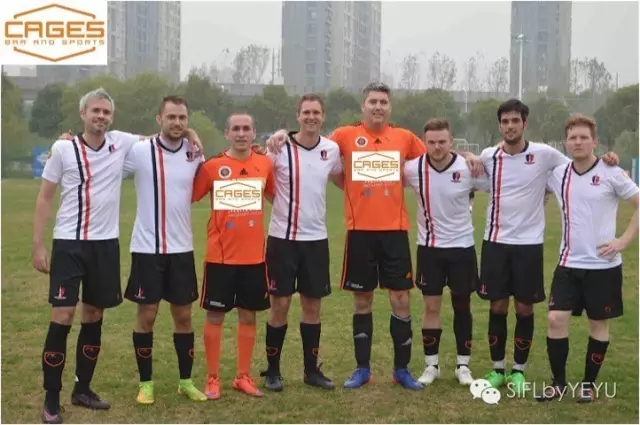 Goal scorers above: Mike McGirr, Kevin Wiessler, Aurelien Souici, Roland Broughton (3), Tom Bus (Cap#471), Wilson Scott (2), Alejandro Kamke and Tom Webster. Hattrick boy Broughton received man of the match honors. The Orangemen went to Cages to celebrate the best goal of the match & new records. Oranjeboom was there!
---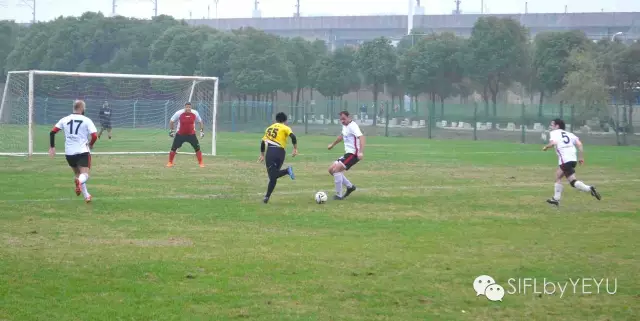 Shanghai United did battle with Shanghai Japan FC. United came well prepared with the Russian Bear between the posts guaranteeing a clean goal with steadfast certainty.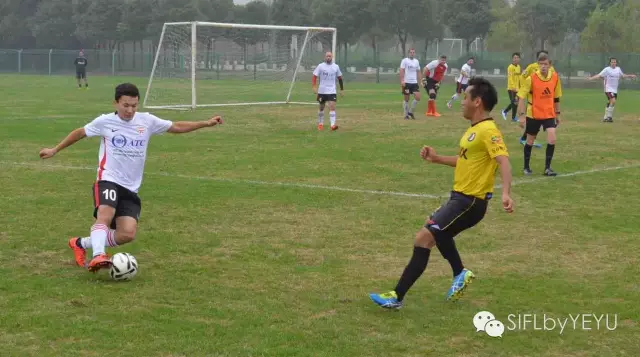 Japan played very offensive and were determined to win this match to move up the table. United were equally to the task and thwarted all Japanese efforts for a 0-0 score line at halftime.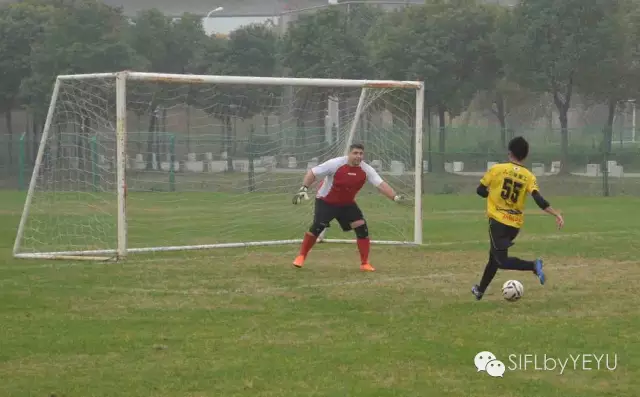 In the second half, United made some outstanding plays but missed a bit of luck to go ahead.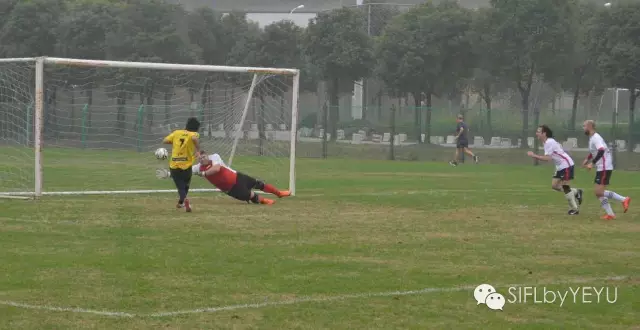 Japan kept pushing to try and break the Russian wall. They finally broke through it when Takuya Nakano found the net taking a 0-1 Japan lead.
Japan kept going and scored several goals in quick succession to go 0-3 up.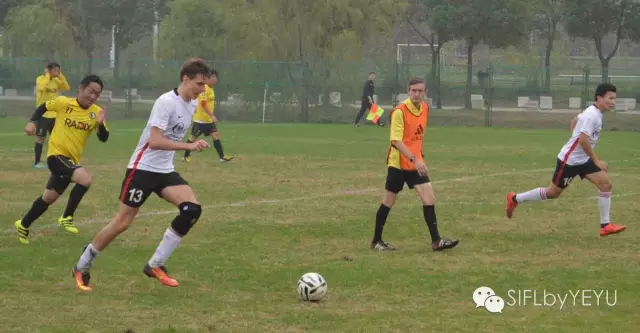 United launched a few attacks themselves and came close to scoring to get a goal back. They did score albeit in their own goal to send Japan 0-4 up.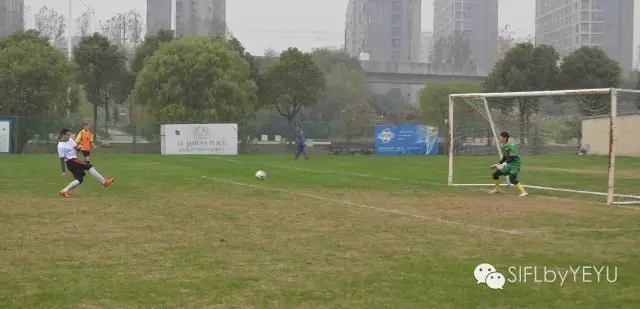 Towards the end United were awarded a penalty. Comrade Nikolai Filatov (above) coolly converted from the spot kick. Honor was saved with a final 1-4 score line.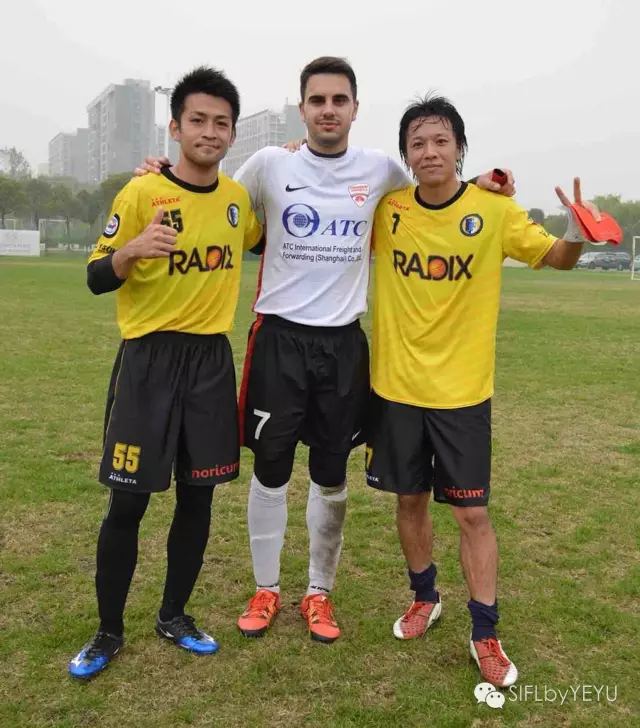 Takuya Nakano (2), Nikolai Filatov and Seiji Ueshima scored the goals for your entertainment and glory. Nakano received man of the match honors.
---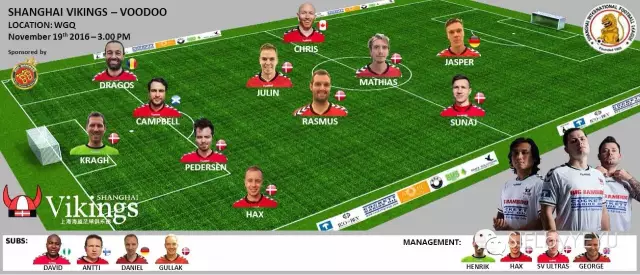 In the First Division, Voodoo locked horns with the Shanghai Vikings FC. The first half hour was fairly even with both teams creating chances. Jasper Scheuermann proved to be a constant threat in attack, which seemed to upset the Voodoo defense who decided to foul him as many times as possible.

At the other end Voodoo hit the bar twice. All luck aside, the chances were not from any build up play and the Vikings would have felt hard done by if either had gone in.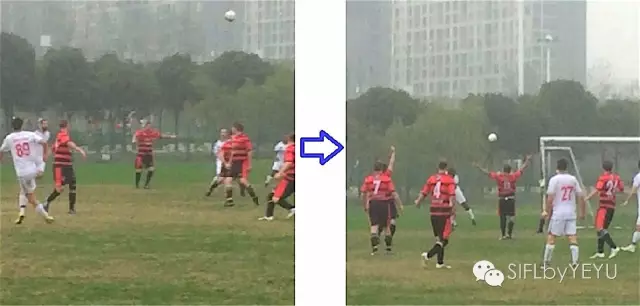 One of the Viking's best chances was the result of some tiki-taka Barcelona style play from coach Martin Haxholdt, Mikkel Pedersen and Janus Olsen (below) but the ball did not find the net and the score remained goalless.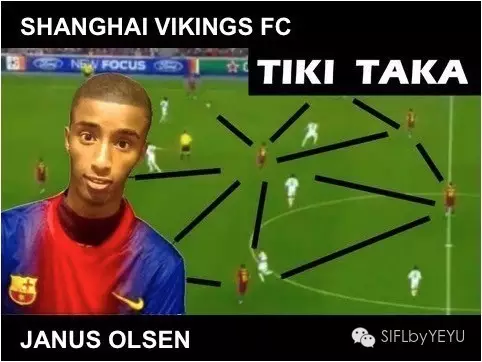 The Vikings continued to have most of the possession in the second half and chances started to come thick and fast. Pedersen's header just went wide and the Voodoo keeper had some outstanding saves to keep the nil.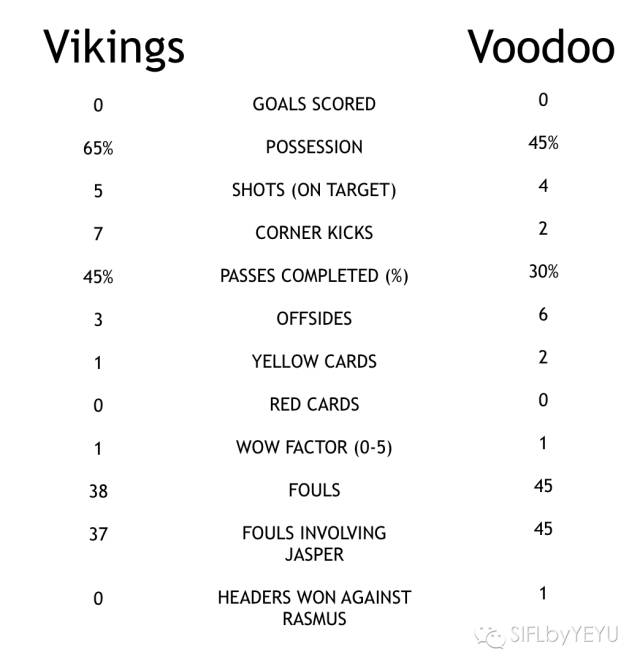 Voodoo's best chance came from a lovely shot from the edge of the box that appeared to curl into the top corner but Haxholdt tipped to ball just wide. The match ended in a 0-0 draw, leaving Voodoo at top of the league on goal difference with the Vikings having one game in hand. Dragos Olaru and Damo Pilat received man of the match honors.
---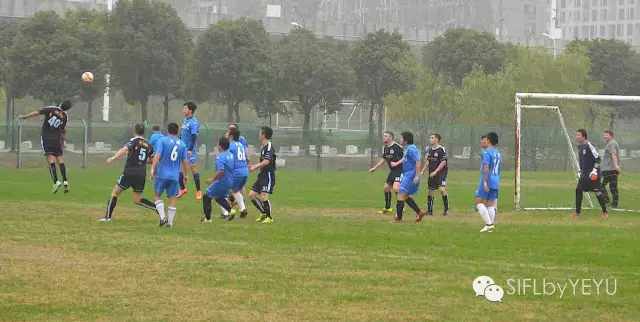 Anzacs FC crossed swords with Shanghai Tianfu FC. Tianfu's plan early on seemed to be to draw the Anzacs in and then counter quickly, whilst the Anzacs were trying to use Dan Aubin's pace up front.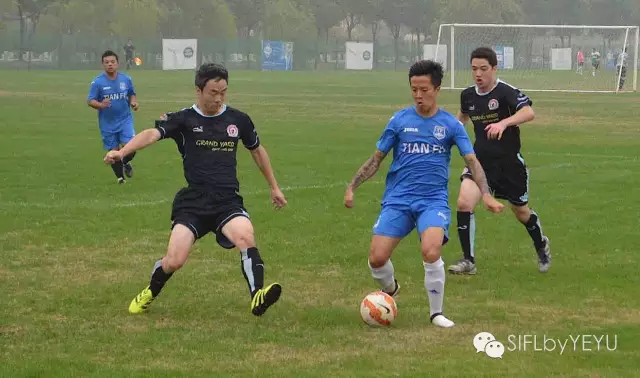 They kept things pretty tight early on, as the first half turned out to be fairly even with few chances. Anzacs' best opportunities came from a couple of set pieces, whilst Tianfu once got behind the Anzacs but keeper Thorsten Kalus came out quickly to smother.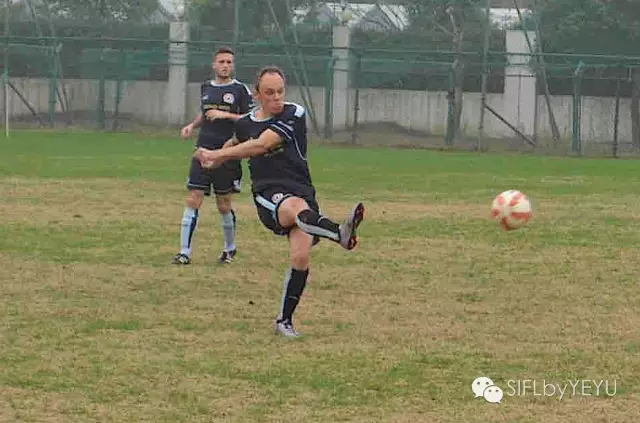 In the second half, things started to open up at both ends as the game became more stretched. Tianfu had several chances but without finding the net. Anzacs' Sebastian Zhang having a shot well saved by the Tianfu keeper and Ian Mote meeting a free header from Steve Watson's free kick but putting it wide.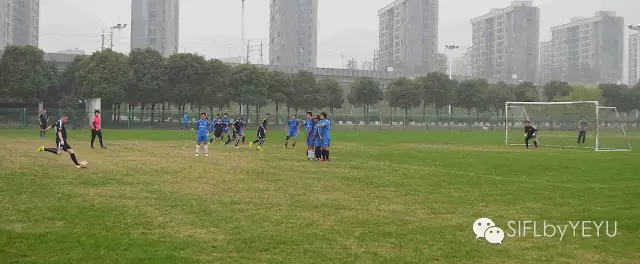 Dan Aubin was still causing Tianfu problems up front, managing to get through on goal once only to overrun the ball and be stopped by the keeper. Aubin was also hassling the Tianfu defenders enough to win a couple of free kicks but they did not lead to a goal.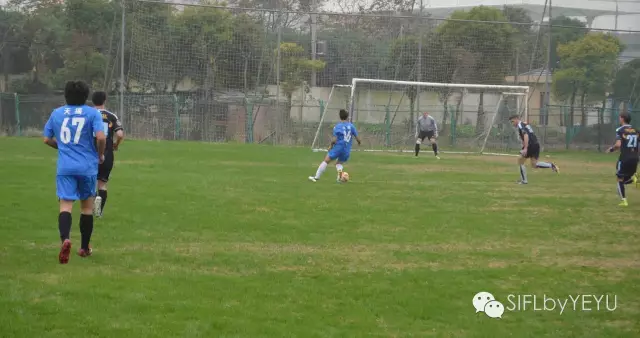 In the last 10mins, Tianfu came at the Anzacs more and towards the end it all got a bit Alamo-like. Keeper Kalus had to make several saves and was forced into another point-blank save from a corner, which turned out to be the last action of the match as it ended 0-0.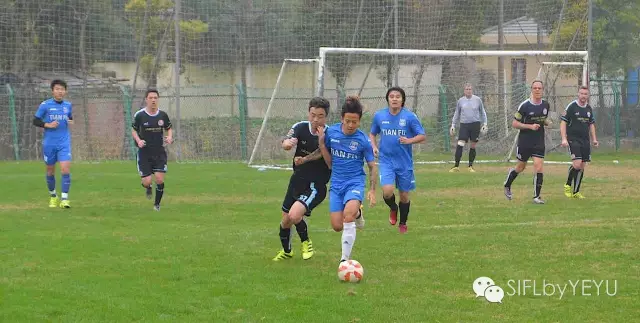 With a slightly patched up team it was a hard-fought point for the Anzacs. Nick Kintzley and Yi Bing Fu received man of the match honors. The boys went to the Grand Yard to celebrate gains made on the day.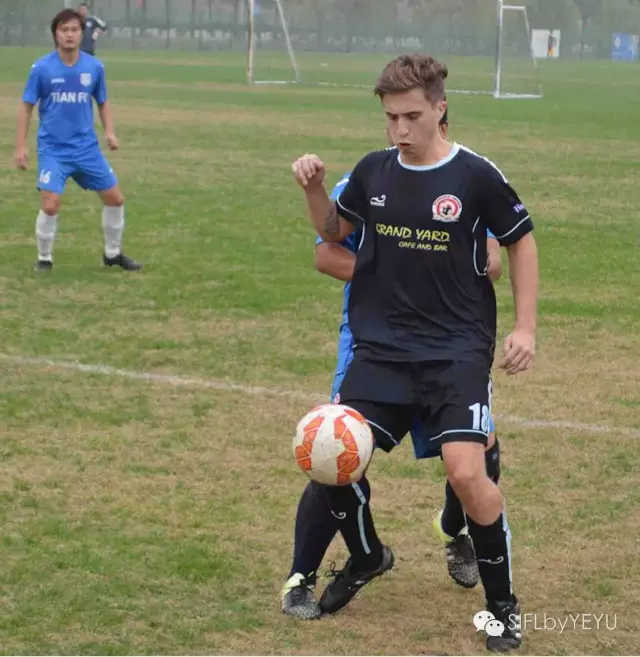 ---
Kangbei United FC squared off with Shanghai Cosmos. Cosmos were chasing their third straight win and were confident coming up against the bottom side of the league. In the opening exchanges, Cosmos soon realized that this was not going to be an easy game, as the Kangbei forwards caused endless problems with their pace.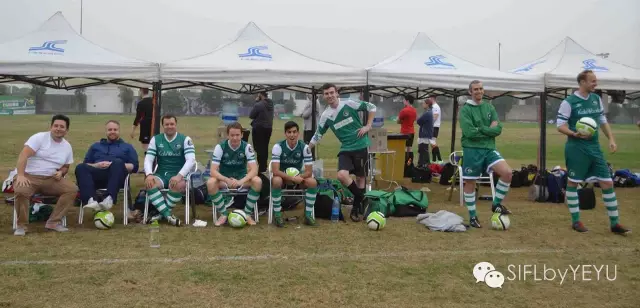 After ten minutes, Cosmos eventually settled. Jordan Campbell found himself one on one with the keeper, but unselfishly passed to Conor Maye for an easy tap in taking a 0-1 Cosmos lead and one for the scrap book!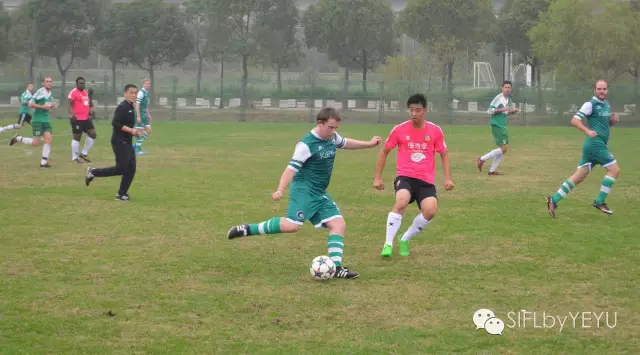 Maye continued to cause problems for the defense and on minute 15, his cross found Campbell unmarked at the back post for 0-2. Soon after that, another Maye cross was heading to Campbell before a Kangbei defender diverted into his own goal for 0-3.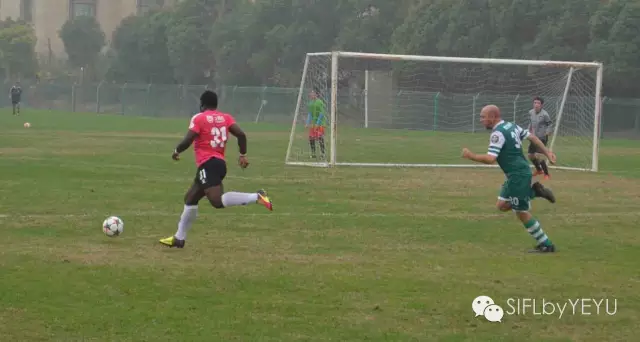 Chris Colman added another on his comeback, only to be ruled offside. On the stroke of halftime, Kangbei's keeper threw the ball out to nobody and Jonny Sellars simply guided it into an empty net for a 0-4 Cosmos lead at halftime.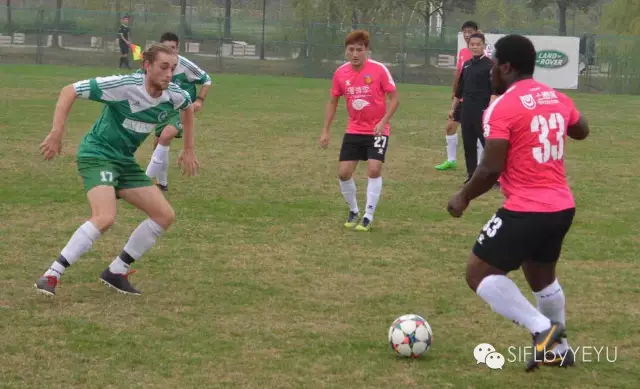 In the second half, Kangbei pressed to get something out of the game and scored two early goals by Jackson Katta and Guanghao Gao, including a stunner from a free kick for 2-3 and game on.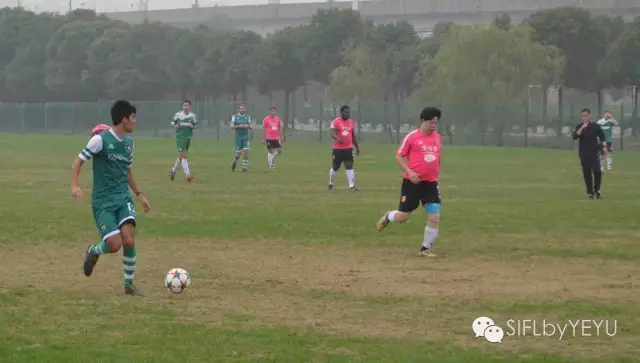 Cosmos soon found their rhythm again and Paul Baird assisted Campbell for 2-5 and 2-6, before Jack Greenwell extended the lead with his first Cosmos goal following a pass from Jonny Sellars taking a 2-6 Cosmos lead.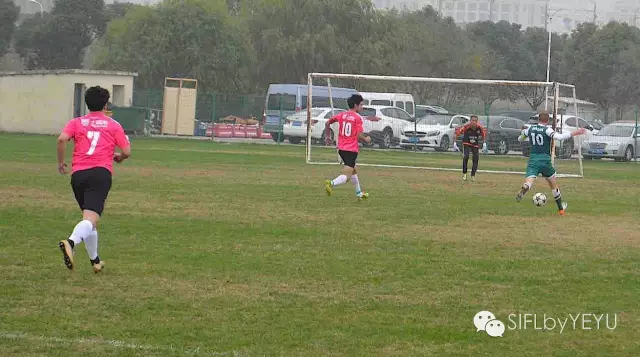 Sellars added his second and Cosmos' seventh when he found himself unmarked from a Graham McNally corner and smashed home from 12 yards for 2-7.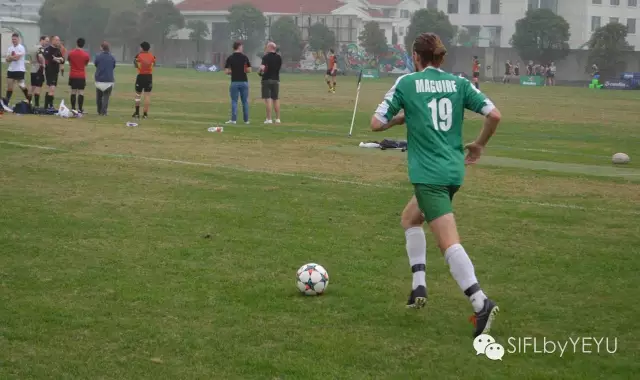 Another McNally corner fell to the feet of center back Jasper 'Van Nistelrooy' Verdam and he made it two in four for the season and a final 2-8 score line. Jordan Campbell (#10) received man of the match honors. Campbell: "Since we have KateWood as sponsor things are moving forward bigly!"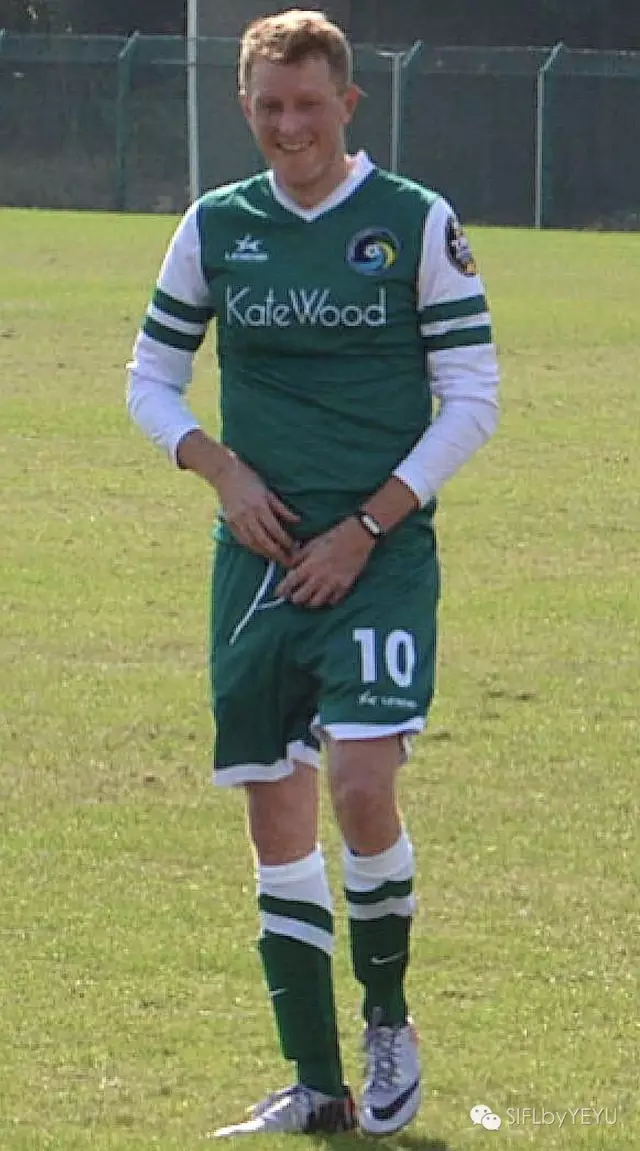 ---
Long Tang AFC were pitted against Happy FC in a Chinese derby. The boys were very sad on the day and both teams held one-minute silence in remembrance of Long Tang player and SIFL Committee member Liang Zhang's mother who passed away last week.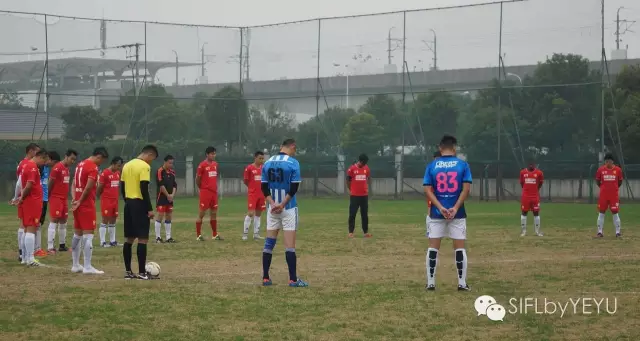 Long Tang started well and were able to play on HFC's half for long periods of time. Their dominance paid off as they drew first blood taking a 1-0 lead and that's how an entertaining first 45mins of football ended.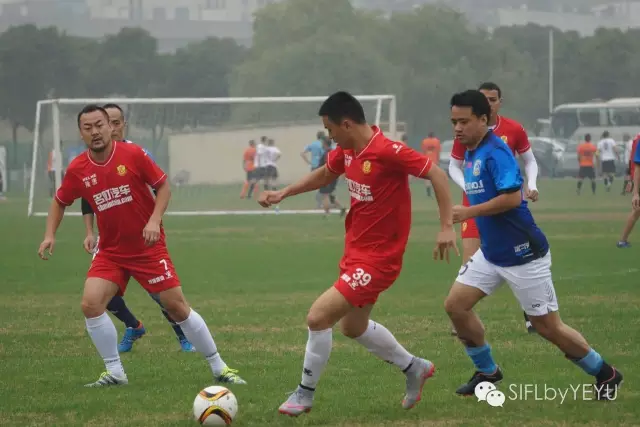 In the second half, HFC regrouped somewhat and were able to push Long Tang back launching several attacks deep into Long Tang territory. It resulted in two goals but not before Long Tang found the net as well for 2-2. The game was open again and could have gone either way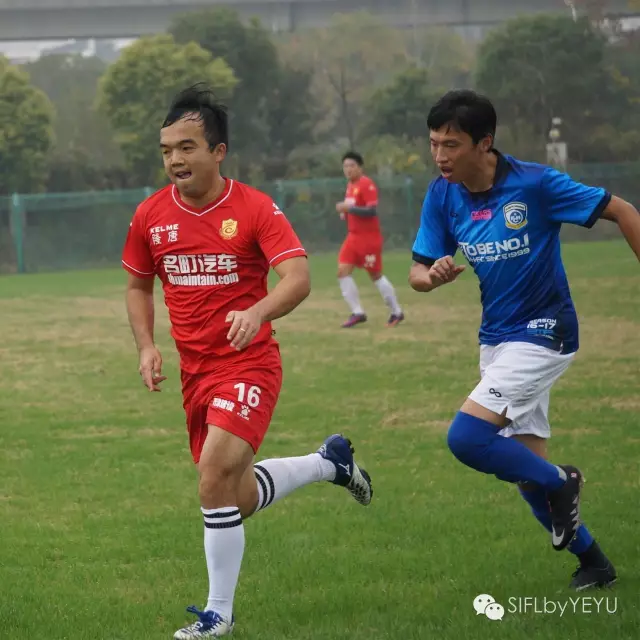 HFC were the happiest after 90mins of football as they managed to score the winner to take home all three points with a final 2-3 score line.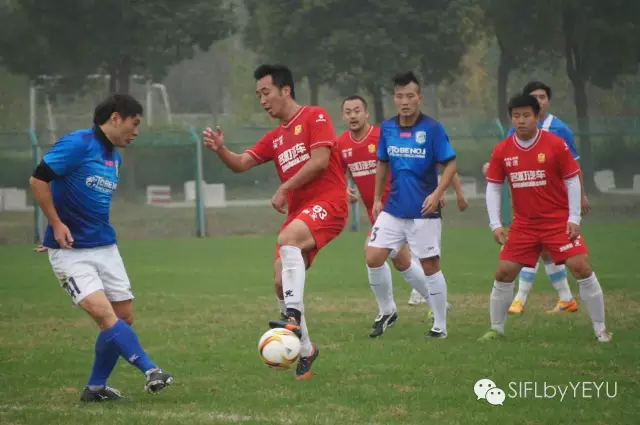 Below: Qiuqi Xu, Linlin Cen and Minjie Shi scored for HFC. Ahamad Meouloud and Sam Mabrouk scored for Long Tang. Linlin Cen received man of the match honors.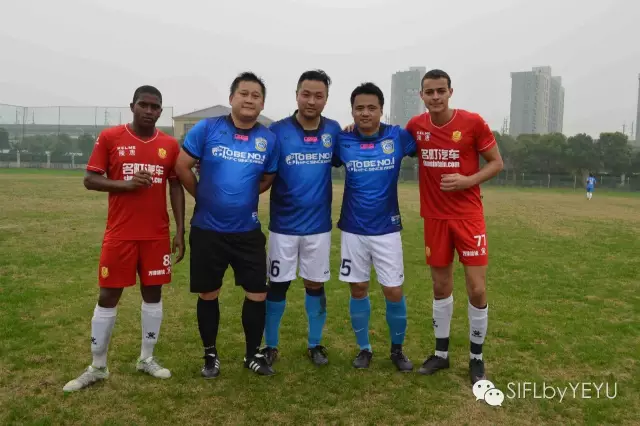 ---
STANDINGS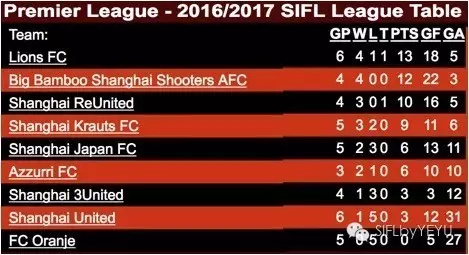 ---
Shanghai International Football League
Visit the official SIFL website to find out more.http://www.eteamz.com/SIFL/
Tom Bus